The Curious Case of Jasper County, the Place Where Everyone Is Sleep Deprived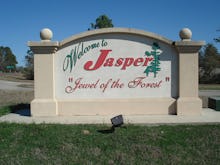 OK, not everyone, but a lot of people. 
A new study in the journal Sleep Health found that more than roughly 78 out of 100 residents in the east Texas county reported not sleeping well on at least 15 of the previous 30 days. The findings give Jasper the dubious distinction of being the most sleep-deprived place in the country. Its nearest rivals for the honor, Freestone County and Kleberg County, also in Texas, came in a distant tie for second with 67 out of 100 reporting poor sleep.
So what's the deal?
There's really not much to say about Jasper. The county was founded in 1836, when Texas declared independence. The largest city — also called Jasper — sits about 115 miles northeast of Houston and according to the state's historical society, takes its name from the Revolutionary War hero William Jasper. Historically, its largest industry has been timber.  
Why Jasper, a picturesque but otherwise unremarkable slice of middle America, seemed to be full of insomniacs was mysterious, even to researchers.
"I've never been there, so I can't tell you." Michael Grandner, a study researcher and member of the University of Pennsylvania's Center for Sleep and Circadian Neurobiology, told Mic. 
United States census data for the county yielded some clues. The county's median household income is $40,417, about 20% lower than the state and national average. At the same time, its unemployment rate of 7.2% also runs above the national figure of 5.1%. Both unemployment and low-income environments have been correlated with poor sleep habits. 
Still, Jasper is far from the most impoverished county in America. (That honor belongs to McCreary County, Kentucky, where only 38% of residents polled reported poor sleep.) Mic spoke to a number of local residents in the county, who were largely incredulous.
"Personally, no I do not [sleep well], said Debbie Williams, director of nurses in Jasper's Rayburn Health Care & Rehabilitation. "I have a very stressful job; I'm on call 24/7."  Williams, however, said she didn't believe the study's conclusions. "My husband sleeps fine, my children they all sleep well."
Another woman, an entrepreneur her late 50s and owner of a computer repair store in Jasper, had a similar answer. "I just don't sleep very well at night," she told Mic. "I have to get up several times." Echoing Williams to a tee, she too said her family typically had no issues. 
So what is going on in Jasper?! It's impossible to say for sure, but the answer may fall somewhere short of revelatory and closer to the arena of simple statistical error. "Some of the data comes from counties that are not heavily populated," said researcher Michael Grandner. "Because of this, some of the estimates from these counties may have a wide margin of error." 
Indeed, despite the top three most sleep-deprived counties all being in the Lone Star state, the study authors concluded that the largest aggregate concentrations of deprivation were actually in parts of Appalachia, particularly around the areas of Kentucky, Virginia, West Virginia and Tennessee.    
"Some of the estimates from these counties may have a wide margin of error." 
A closer look at the findings also reveals some evidence that the data is not as robust as it may first appear. For starters, researchers culled information from the Centers for Disease Control's 2009 Behavioral Risk Factor Surveillance System, which, while likely rigorously gathered, is now six years old.
More glaring still is that, despite interviewing 432,000 people, the data was unable to collect enough information to account for dozens of different counties, covering vast tracts of the Midwest but also spots as diverse as New York's Hamilton County, California's Sierra County and even Jasper's northern neighbor, San Augustine County. 
"It may be an outlier or an anomaly," said Grandner. "This is why this sort of work needs to be replicated."