Paul Ryan House Speaker: Wisconsin Republican "Thinking" About Replacing John Boehner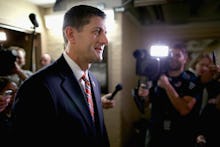 House Majority Leader Kevin McCarthy (R-Calif.) told reporters Thursday "it's a very good chance" for Rep. Paul Ryan (R-Wisc.) to run for House Speaker. McCarthy sent Capitol Hill into a frenzy on Thursday after he announced he would not attempt to replace retiring Speaker John Boehner.
Republican Utah Rep. Chris Stewart told CNN that he urged Ryan to run and said Ryan was "thinking and praying on it." However, Ryan has not confirmed the rumors, only adding in a statement to Politico staff writer Jake Sherman that he is "still not running for Speaker."
The Republican scramble for a replacement Speaker of the House comes after Boehner announced his plan to retire by the end of October. Boehner said Thursday that he will stay put until his replacement is found, the Wall Street Journal reports.
Ryan was Former Massachusetts Gov. Mitt Romney's vice presidential running mate in 2012 and serves as chairman of the Ways and Means Committee, the House of Representatives' chief tax-writing committee.
Ryan has shot down the idea of taking over the Speaker role since McCarthy retracted. "I continue to believe I can best serve the country and this conference as Chairman of the Ways and Means Committee," Ryan said in a statement on Thursday.
"Paul's got a strong sense of doing the right thing," Deputy Majority Whip Tom Cole said Friday on MSNBC's Morning Joe. "I'm just so confident he'll make the right choice."
Ryan volunteered on now retiring Boehner's first House campaign in the 1990's while studying at Miami University of Ohio. Reports say that Boehner has urged Ryan to "step up," Business Insider reports. 
The Washington Post's national political reporter Robert Costa said Boehner said, "It has to be Ryan," on Thursday.
Oct. 9, 2015, 12:05 p.m. EDT: This story has been updated.