The Game 'Documentary 2' Album: Streaming, Download Options and Lyrics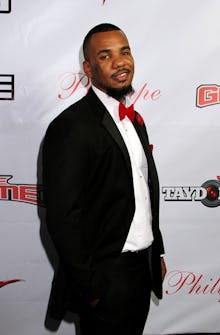 "My Life" rapper The Game, real name Jayceon Terrell Taylor, a protege of iconic hip-hop producer Dr. Dre, released Documentary 2 on Friday, his first album in three years, Vibe reports. Given that the album boasts over 25 collaborations from the biggest rap stars, including Dre, Diddy, Nas, Kanye West, Kendrick Lamar and Future, it may be worth the wait.
Documentary 2 is the sequel to Game's 2005 debut album, The Documentary. Dre, West and Black Eyed Peas' founding member will.i.am co-produced the double disc — one red and one blue — which highlights gang life in Los Angeles by representing the notorious "Bloods" and the "Crips," the Louisville, Kentucky, Courier-Journal reports. 
The Compton, California, native is familiar with LA street life, which his lyrics represent. "So, what it do blood? Talk of the town/ Premo, Doc Dre still holding it down," The Game raps on the album's intro track. Full lyrics for the album are available on Genius.
The 19-song album is streaming on Spotify and available to purchase on iTunes. 
The rapper told MTV on Friday that he's been working on the album for three years because Dre wasn't pleased with the first few drafts. 
"I went through a few different drafts of what it was," he told MTV. "Once I played the first for Dre, he was just like, Thumbs down. Not because the music wasn't up to par — it just wasn't Documentary-level."
The Game has a volatile reputation. In June, turned himself in after facing charges assaulting an off-duty police officer at a high school in LA, the Los Angeles Times reported. Prosecutors said he threatened to kill the officer. He was released on $50,000 bail, Vibe reports.