Larry Lessig: Here's What We Know About 2016 Democratic Presidential Candidate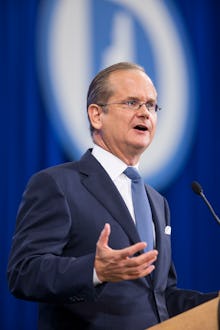 Harvard Law School professor Larry Lessig isn't your typical presidential candidate. The outspoken Internet law activist and attorney announced his bid for the White House in September during an interview with ABC's This Week, but it came with a twist. His campaign centers around a single issue, and he would remove himself from office immediately after imposing his so-called Citizens Equality Act of 2017, a bill which comprises a series of sweeping reforms surrounding campaign financing. His running mate and vice president, whom Lessig is letting the Internet vote for on his website, would then step up as head of state. 
"We have to recognize we have a government that does not work," Lessig said to ABC anchor George Stephanopoulos in his campaign announcement Sept. 6. "This stalemate, partisan platform of American politics in Washington right now doesn't work. And we have to find a way to elevate the debate to focus on the changes that would actually get us a government that could work again, that is not captured by the tiniest fraction of the one percent."
"I'm not going to be the 'rent is too damn high' candidate," the Democratic candidate tells the New York Times. "But the objective would be to make it central and make the priority of resolving it inescapable."
The Washington Times reports campaign funding policies would receive a major overhaul in the Citizens Equality Act, allowing candidates to receive matching funds from the federal government for small donations from voters. Similarly, new legislation would provide vouchers for citizens to send in donations directly to candidates. 
However, Lessig faces a number of obstacles that could force him to put an end to his bid. Ironically, the attorney is facing issues with the exact issue his campaign focuses on. Although Lessig managed to raise about $1 million dollars from public donations, the attorney said his funding is nearly exhausted. "I can't even borrow money, except from credit-card companies," the candidate told the New York Times. "The assumption was that I would be making the money in the family."
On top of that, Lessig hasn't been included in the upcoming democratic presidential debate, and his candidacy has yet to even be recognized by the Democratic Party. As he told the New York Times, "I'm surprised by the lack of recognition from the Democratic Party. It's unclear how if you're not a politician or a billionaire, you get to a place where you are able to participate."
Still, Lessig is pushing on with his campaign. The attorney is looking at former Secretary of State Hillary Clinton, Vermont Sen. Bernie Sanders and Massachusetts Sen. Elizabeth Warren as possible running mates if given the Democratic ticket, according to his website. He told the New York Times, "I didn't intend this as a research project, but I'm sure after it's over I'll be reflecting on the craziness of it."