Texas Southern University on "Lockdown" After Reports of Shooting, Possible Injuries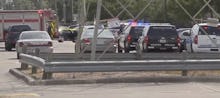 One person was killed and another injured after a gunman fired shots near a campus housing complex at Texas Southern University in Houston, Texas, Friday. The university ordered the school to remain on lockdown Friday afternoon.  The gunman has been detained, according to NBC. The incident follows an attack on the university campus just two days ago, when one person was shot, Newsweek reports.
The shooting occurred around 11:30 a.m. CT. University spokeswoman Eva Pickens said Friday "early reports indicate two shot" but that their "conditions [are] not known right now," ABC13 reports. "All staff are asked to remain in offices — students to remain in classrooms until further notice," Pickens said. 
The school tweeted that classes were canceled. 
Although it wasn't immediately clear how many people were harmed in Friday's apparent shooting, Newsweek and BuzzFeed reported two people were shot. The school asked faculty and students to remain in offices and classrooms Friday as the gunman, whose whereabouts remained unknown, was still at large. 
One person was shot on the campus Tuesday night and sent to a nearby hospital following a dispute that occurred near the school's recreation center, according to local reports.
Oct. 9, 2015, 2:56 p.m. EDT: This story has been updated. 
Correction: Oct. 9, 2015