20 Years Ago, No Doubt's 'Tragic Kingdom' Rewrote the Rules for the Female Rock Star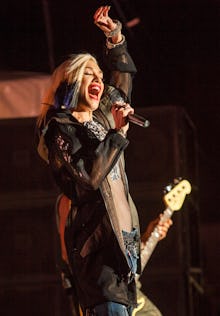 Back in 1995, Gwen Stefani was a fascinatingly difficult artist to classify. On the surface, she came off like the quirky girl on the cheerleader squad — girly, effortlessly summery, yet more more interested in sitting in the bleachers coloring on her shoes than actually cheering. She had an undeniable tough streak. One misplaced comment about how cute she looked or misguided catcall and you'd get a Doc Marten to your jaw.
Saturday marks Gwen Stefani's 20th year as a tastemaker. It's the anniversary of the the day No Doubt released its breakout record Tragic Kingdom, an album as difficult to classify as Stefani. Equal parts punk, pop and grunge, the fascination with the album's genre-bending singles "Spiderwebs" and "Just a Girl" sparked a flashbang of interest in ska as a potentially serious musical movement. It got bands like Reel Big Fish, Goldfinger and Mighty Mighty Bosstones attention from mainstream audiences — attention that quickly waned.
However, No Doubt's effortlessly poppy punk had a much greater impact in terms of creating new lanes for female artists to express themselves. Stefani found a way to deliver powerfully feminist messages through mainstream channels without having to flash the bright, flawless feminine sparkle of chart-toppers like Mariah Carey or without having to rely on the defiant snarl of the Riot Grrrl movement.
Make or break: Tragic Kingdom was essentially a make-or-break moment for No Doubt. They had been together for about eight years watching their cartoonish punk fail to hit with audiences time and time again. Sick of feeling label pressure to either go full pop or settle into the established grunge scene, No Doubt's former lead songwriter Eric, Stefani's brother and a No Doubt co-founder, began to phase himself out of the writing process during the album's creation. That left more of the songwriting to fall on Stefani's shoulders, allowing the band to move into a whole new lane.
"As soon as he left, a kind of creativity opened up for me," Stefani once told Interview magazine. "I think that's why a lot of the songs on Tragic Kingdom are much more personal than on our previous record, because I wrote almost all the lyrics on this one."
A large portion of the album deals with Stefani's break up with the band's bassist Tony Kanal. She would write songs like "Are You Happy Now?" and "Sunday Morning" and immediately call up Kanal to share them. "I was, 'Dude, I totally wrote the raddest song – I have to read it to you. Promise you won't get mad at me,'" she told Rolling Stone. The band managed to hold together despite the friction, while the venom Stefani managed to hide in the innocent-sounding lyrics gave the band's songs the boost they needed to finally break through.
That hidden venom: Disarming audiences with a coy, sarcastic delivery, Stefani slipped some sharp patriarchal critique into the album's first single "Just a Girl." "Don't you think I know exactly where I stand," Stefani sings. "This world is forcing me to hold your hand." 
The sentiment is mirrored on the ska-heavy "Sunday Morning." "Sappy, pathetic little me," Stefani sings in lines clearly directed towards Kanal, but applicable to every woman who's ever felt held down by the unbalanced relationship. "That was the girl I used to be/ You had me on my knees/ I'd trade you places any day." 
The songs helped disrupt rock 'n' roll radio, which was dominated by male acts like Nirvana and all of its clones. It essentially helped deliver the messages of the fledging Riot Grrrl scene to a much wider audience. That movement utilized the punk sound and mentality to fight for "the psychic and cultural lives of girls and women everywhere" according to its manifesto. However, its foremost bands like Bikini Kill, Bratmobile and Heavens to Betsy were far too aggressive to make it to radio.
No Doubt provided a fun and flexible alternative. It helped parents feel comfortable enough bringing their impressionable young children out to concerts, where kids could take part the alluringly radical "fuck you, I'm a girl!" choruses. What it lacked in sophistication, it made up in energy potent enough to motivate young audiences to demand more from their pop stars.
Without Tragic Kingdom whetting the world's appetites for these kinds of messages in pop, it's hard to imagine we'd see crossover acts like Pink, Haim, Grimes and Miley Cyrus making the noise they do today. It proved feminist messages could sell in pop and rock, and it likely started many on their paths to understanding exactly how society keeps girls "living in captivity." Regardless what one thinks of the direction Stefani took her solo career — more "B-A-N-A-N-A-S" than "Bathwater" — Tragic Kingdom is a milestone worth celebrating.