2015 Democratic Debate Schedule: Date, Time and Channel for Every Debate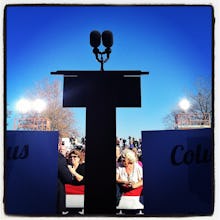 Tuesday marks the start of the first Democratic debate in the long lead-up to the 2016 presidential election. The first of six scheduled debates, Tuesday's event will begin at 8:30 p.m. EDT and will be streaming live via CNN. 
The network's top anchors — Anderson Cooper, Don Lemon and Dana Bash — will moderate the debate. Five candidates will respond to moderator's questions — former Secretary of State Hillary Clinton, Vermont Sen. Bernie Sanders, former Maryland Gov. Martin O'Malley, former Rhode Island Gov. Lincoln Chafee and Jim Webb, a former senator from Virginia.
So far, there have been two republican primary debates, one on Aug 6. and another on Sept 16. 
See below for the full list of Democratic presidential candidates and debate dates. 
The Candidates
1. Saturday, Nov. 14: CBS News Democratic Primary Debate. Democratic presidential candidates will meet in at Drake University in Des Moines, Iowa, where John Dickerson will moderate a debate.  You can watch full online live stream coverage through Mic.
2. Saturday, Dec. 19: ABC News Democratic Primary Debate. The candidates will meet in Manchester, New Hampshire and the moderator is not yet known. 
3. Sunday, Jan. 17: NBC News Democratic Primary Debate. The first debate of 2016 will be held in Charleston, South Carolina.
4. Thursday, Feb. 11: PBS Democratic Primary Debate. The democratic presidential candidates will meet and debate in Wisconsin, though a precise location has yet to be determined. 
5. Wednesday, March 9: Univision Democratic Primary Debate. The fifth and final debate in the lead-up to 2016 presidential election will take place in Miami, Florida.