Selena Gomez 'Revival' Album: Streaming Options, Downloads and Best Lyrics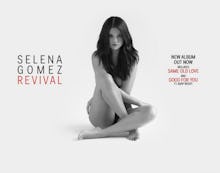 Selena Gomez's highly anticipated new album, Revival, was released on Friday featuring 11 new tracks from the 23-year-old pop star. The "Good For You" singer took to Twitter to tease the album's release as well as announce her upcoming Revival world tour.
The album is also available for live streaming via Apple Music, Spotify and TIDAL. 
Below is the list of songs on Revival, according to iTunes:
1) "Revival"
2) "Kill Em With Kindness"
3) "Hands to Myself"
4) "Same Old Love"
5) "Sober"
6) "Good for You (feat. A$AP Rocky)"
7) "Camouflage"
8) "Me and the Rhythm"
9) "Survivors" 
10) "Body Heat"
11) "Rise"
Gomez's new album only includes one feature from a fellow artist in "Good For You," featuring rapper A$AP Rocky. The song has been making waves online and on the radio, making it Gomez's first No. 1 on the Billboard Pop Songs chart.
The sexually charged lyrics show a much different side of the former Disney star than fans usually see:
"Gonna wear that dress you like, skin-tight/ Do my hair up real, real nice/ And syncopate my skin to your heart beating/ 'Cause I just wanna look good for you, good for you/ I just wanna look good for you, good for you/ Let me show you how proud I am to be yours/ Leave this dress a mess on the floor/ And still look good for you."
A$AP Rocky comes in during the second verse with some raunchy lyrics while rapping about a sexual affair with another well-known celebrity:
"And every time we get up, always end up on the news/ Ain't worried bout no press and ain't worried bout the next chick/ They love the way you dress and ain't got shit up on you/ Jackpot, hit the jackpot."