Ben Carson Says the Founding Fathers Wouldn't Have Let a Muslim Be President Either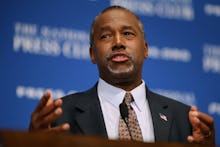 Republican presidential candidate and neurosurgeon Dr. Ben Carson doubled down on his comments suggesting Muslims aren't qualified to be president on Friday, telling an audience he could not support a Muslim for the nation's highest office because they have "differing loyalties."
MSNBC reports Carson offered up an explanation involving Constitutional requirements for the presidency, specifically the fact that presidents must be a "natural-born citizen," when an audience member at the National Press Club asked him why Muslims who serve as sworn police officers, soldiers and judges should not be able to take the oath of the presidency.
"I'm sure if you had gone to the Founders and said, 'but what about this person? They may not be a natural born citizen but you know they've been in America for most of their lives, and they're a fine upstanding citizen, they served in the military, they came back they were on the police force, can't they be the president?' Carson responded, according to MSNBC.
"... they would have said no," Carson said. "They said 'We don't even want to take the slight chance that we would put someone in that position who had different loyalties.' That's the answer to your question."
The Constitution explicitly forbids any "religious test" for public office, including the presidency. However, a recent Rasmussen survey found 51% of likely voters would not support for a Muslim for president, with an additional 20% undecided. Some 73% of likely Republican voters told Rasmussen they would not support a Muslim for president. Forty percent of voters also said they believed "most Muslims" around the world view the U.S. as an enemy.