Video Shows Texas Police Tackling a 14-Year-Old Student With a Chokehold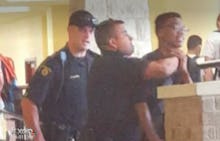 The police department of Round Rock, Texas, is drawing fire after a video of an officer using a chokehold to subdue a 14-year-old student surfaced on Thursday.
According to local station KXAN, parent Kashka Hughes is planning on pressing charges after seeing footage of his son Gyasi Hughes being taken down by Round Rock High School school resource officers responding to a report of a fight.
Gyasi Hughes admitted he had been confrontational toward the officer following an argument with a school vice principal, though says he was not violent and was trying to comply with the officer's request to walk away from the fight.
The police department wrote in a statement on the city's website, "The student refused to calm down and was attempting to get past the SROs to the location of the other student to continue with the altercation. After repeated attempts to calm the non-compliant student, and stop him from going after the other student, officers were forced to detain him for his safety and the safety of others."
"The student later calmed down and was released from detention at Round Rock High School with no criminal charges filed at this time," the statement continued. "This incident is currently under review by the police department staff."
However, this explanation does not satisfy the Hughes', who believe the officer's use of force was disproportionate.
"I believe if he directly contacted the officer in terms of like maybe grabbing him, something like that would be understood, at this moment he was emotional," Kashka Hughes told KXAN. "He was not being violent towards the officer, he wasn't hitting him, he didn't have a weapon, he was just emotional, which is mostly understood after being in a conflict just as he was."