Amy Schumer Takes Aim at Gun Rights and the Kardashians in First SNL Appearance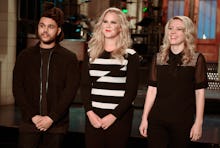 Amy Schumer's first hosting gig on Saturday Night Live went off without a hitch.
As host, the comedian-actress mixed her brand of profane humor during an opening monologue with a body-positive message. Taking aim at the lack of role models for young girls in pop culture, Schumer targeted the Kardashians in particular for selling a fake version of themselves to the public.
Schumer told the audience about an incident in which a young co-star overheard she had "big cheeks" during the filming of Trainwreck and added, "We have to be a role model for these little girls, because who do they have? All they have, literally, is the Kardashians."
"Is that a great suggestion for little girls?" Schumer continued. "A whole family who take the faces they were born with as a light suggestion?"
"We used to have Khloe," Schumer said. "Khloe was ours, right? Whenever there's a group of women, you identify with one of them ... Khloe, she lost half her body weight. She lost a Kendall! We have nothing. I want good role models."
Later in the program, Schumer (a prominent gun control activist) satirized the United States' gun obsession in a sketch, joking, "Whatever you're waiting for. Whatever you face. Whatever you're looking for. There are things we all share. Love. Family. Connection. A sense of purpose. And also — guns."
Watch the sketches below: