This Wearable Device Is Essentially Like a Jungle Gym for Your Vagina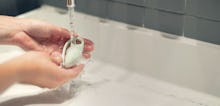 In our increasingly self-quantified, technology-mad world, we have gadgets and gizmos to measure pretty much everything in our lives, from our workouts to our diets to our sex lives to our periods. With this in mind, it was only a matter of time before Silicon Valley came up with a way for us to keep tabs on the most intimate organ of all: our vaginas.
Created by the London-based startup Chiaro, the Elvie is a Bluetooth-enabled wearable device that tracks the strength of your Kegel muscles, which control the flow of urine and contract and release during orgasm. It's a small, flexible, egg-shaped bullet that's embedded with motion-detecting sensors. 
When you insert the Elvie, which launched Monday, into the vagina, the device connects to a companion app that tracks the strength of your Kegel muscles and provides real-time biofeedback as you clench and release. It also comes with five-minute "exercises" that instruct the user on whether they're doing the movements correctly. The Elvie adds an element of gameification to the process of pelvic floor exercises: The app includes a game where users keep a ball bouncing above a certain line by clenching their pelvic floor muscles.
Because the device is small, you can theoretically do these exercises whether you're at home or sitting in your desk at work, though depending on how much you get into it you might get some funny looks from your cubicle mates: 
A problem no one talks about: The Elvie was created by Chiaro CEO Tania Boler, a scientist who quit her full-time job to develop the gadget last year. She was inspired to create it when she realized that her pelvic floor muscles had weakened after giving birth to her first child four years ago. While this is fairly common after childbirth, no one had warned her about it beforehand. "I was quite shocked because I didn't understand what was happening to my body," Boler told Mic. 
After doing some research, Boler realized that in other countries, doctors instruct women to do Kegel exercises to strengthen their pelvic floor muscles after pregnancy. In France, for instance, the government pays for women to do pelvic floor exercises after they gave birth to prevent incontinence. Boler also discovered that female athletes were also at risk for becoming incontinent due to the strain they put on their pelvic floor muscles. 
"They have built-in sanitary pads in their clothes because they're like, 'We know you're gonna pee,'" Boler said. "Anything where you do a lot of bouncing, such as Crossfit, your pelvis is holding up so much weight so it weakens your pelvic floor muscles over time." So she decided to create the Elvie to raise awareness of the importance of regularly doing Kegel exercises.
Getting to know your Kegels: Although Elvie is somewhat unique in that it adds game-like elements to the Kegel exercise process, it's far from the only smart pelvic floor exerciser. There's also the Skea, an as yet unreleased device that turns pelvic floor exercises into a video game called Alice In Continent (users control the avatar by squeezing and releasing their pelvic floor muscles), as well as the kGoal, a Kegel training device by the sexual wellness company Minna, which officially launched earlier this year. For the less technologically minded, there are Ben Wa balls, which are inserted into the vagina to help improve pelvic floor strength.
All of these devices bring attention to the importance of doing Kegels to strengthen the pelvic floor muscles, particularly for new mothers, who are at risk of developing postpartum incontinence and, in some extreme cases, pelvic floor prolapse. (Interestingly, none other than Kim Kardashian brought attention to the phenomenon of postpartum incontinence in a recent blog post, noting that she'll likely have to wear a diaper after giving birth: "No one told me that! #SoSexy," she wrote.)
But Kegel exercises aren't just for women who've just given birth. There's also evidence (albeit somewhat limited in scope) that doing Kegel exercises will help improve your sex life as well. As numerous lady mags have argued, because the Kegel muscles contract when you climax, regularly exercising them will lead to you having stronger and better orgasms. (Remember Samantha Jones touting the benefits of Kegels on Sex and the City?)
That's why Boler says that while 58% of those who preordered the device are new mothers, 42% are women who have never given birth at all and 19% are women in their twenties. "So many women want to use Elvie for different reasons," she told Mic. "We've definitely started selling quite a lot to women who've recently had babies because they're told constantly to do their Kegels, but we've also seen a lot of women in their 20s because they're competitive and because they want to improve their sex lives."
A costly downstairs workout: That said, there is some debate as to exactly how much Kegels will improve your sex life, particularly in the fitness blogosphere, where there's split consensus on the benefits of Kegels in general. In 2010, biomechanic Katy Bowman came out against doing Kegels on the blog Mama Sweat, explaining that while Kegel exercises attempt to strengthen the pelvic floor muscles, "it really only continues to pull the sacrum inward, promoting even more weakness, and more [pelvic floor] gripping." Other health bloggers have concurred, saying that if you're a woman with tight pelvic floor muscles or if you experience pain during sex, Kegels probably aren't going to do you much good.
Further, even if there are proven medical benefits to doing pelvic floor exercises regularly, there is something more than a little bit problematic about the idea of selling a device that promises to help improve women's sex lives by "tightening" their vaginas, which is usually framed as a way to enhance a male partner's pleasure. Women are made to feel self-conscious about their bodies enough without throwing the fear of having a "loose" vagina into the mix, and it could be argued that the Kegel exercise industry and devices like the Kegel are capitalizing on such concerns.
Boler rejects the idea that the Elvie is perpetuating women's insecurities about vaginal tightness. Rather, she suggested that instead of encouraging women to fret over whether they have the "perfect" vagina, the Elvie is giving them the tools they need to become more empowered and have better sex.
"Some women say to me 'Is this not for men's benefit?'" Boler told Mic. "But the pelvic floor is also linked to the clitoris, because as you exercise your pelvic floor you're more lubricated, you have stronger orgasms, and you enjoy sex more." 
"If the woman's feeling more in control, she's feeling more into sex too," she said.
Whether or not that's true — or whether or not the burgeoning smart pelvic floor exerciser market will take off — remains to be seen. But at an estimated $199 per unit, having perfectly toned, Bluetooth-connected pelvic floor muscles certainly doesn't come cheap — unless you can somehow figure out how to get it comped under your company's gym membership plan. 
You can watch the promotional video for the Elvie below.