Stephen Colbert's 'Late Show' Has the Classiest Guests in Late Night — And the Most Male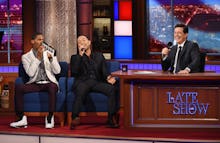 After an initially shaky start, The Late Show With Stephen Colbert is off to the races. Since joining CBS, the former Colbert Report star has quickly made his claim to being late night's best interviewer. Whether talking honestly and refreshingly about loss with Joe Biden or about sexism with Emily Blunt, he comes across as genial, confident and comfortable.
Helping project this image is a particularly classy group of guests. In his first week alone, Colbert featured politicians, actors, an author and two tech entrepreneurs. You're not likely to find Tesla's Elon Musk playing beer pong with Jimmy Fallon on The Tonight Show Starring Jimmy Fallon, after all. 
Whereas Fallon and his fellow Jimmy, Kimmel, aim for virality with games and sketches, Colbert just aims for a good chat. Progress isn't absolute, however: Most of the people Colbert is chatting with are men. Considering how male late night's current batch of hosts is, the lack of women being interviewed does nothing to make the genre look any less like a bastion of masculinity.
The stats: The Late Show debuted Sept. 8. Accounting for every show up to and including Monday's, Colbert has had 47 regular guests on the show. (Performers don't count unless the artist also took part in the interview portion of the program.) 
Among those 47 guests, 15 were politicians, 25 were entertainers and six were tech figures. Colbert also had one sports star on the show: Golden State Warrior Stephen Curry. Only 32% of the pool were women.
It's the tech category that sets Colbert apart: Neither of his network competitors in the 11:35 p.m. ET time slot featured anyone from the tech world in that same time period. He also featured far more politicians than either of them: The Tonight Show only had three, while Jimmy Kimmel Live had none.
As befitting his Tonight Show's reputation as late night's chill hangout for celebrities, Fallon had the most of them on his show in the given time period with 45, making up 87% of his total guests. Compare that to 56% for Colbert's pool and a very close 86% for Kimmel's.
Fallon also had the most athletes on his show, with three, plus the only chef (Danny Bowien). Kimmel, for his part, was the only host to include multiple news personalities with three: David Muir, Bill O'Reilly and Jake Tapper. He also had a newsmaker on: Spencer Stone, one of the Americans who saved the day during an attack onboard a French train in August.
One thing does become clear looking at the three hosts' guest pools together, however: While Colbert is running behind the pack in terms of guest gender parity, no one has near a 50-50 split. Compare Colbert's 32% female pool to Kimmel's nearly 40%. Fallon gets the closest to equity, with women making up 44% of his guests.
On a show-to-show basis, however, Colbert's shows looked the most male. Nine of Colbert's first programs only featured men as guests. Only one featured multiple female guests, though first lady Michelle Obama also appeared alone on one episode. Fallon filmed four episodes with only male guests and two with only women; Kimmel aired six all-male and two all-female.
Colbert's mentor Jon Stewart had a notable lack of female guests during his tenure as well. On his Daily Show, only two women placed among the top 20 most frequent guests: Maggie Gyllenhaal and Sarah Vowell. Is Colbert following in Stewart's footsteps on his show?
The range of interests and careers these guests represent is a good sign that his team is looking for unique perspectives. That only goes so far, though — for example, every one of Colbert's tech-associated guests was a white man. New Daily Show host Trevor Noah, by contrast, had female Tinder co-founder Whitney Wolfe on in the first week of his show.
It's early days for Colbert, and the host has plenty of time to achieve gender equity. It won't be happening any time soon, though; the rest of this week features only four women out of 12 guests.