Chrissy Teigen May Give Us the No-Bullshit Celebrity Pregnancy Women Have Been Waiting For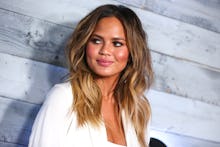 Chrissy Teigen is pregnant — and she wants you to know that it hasn't been an easy road to get there. 
In fact, as the Sports Illustrated model noted in an Instagram announcement on Sunday night, she and husband John Legend have been trying to conceive "for a while now."
"It hasn't been easy, but we kept trying because we can't wait to bring out first child into the world and grow our family," she wrote on Instagram. "We're so excited that it's finally happening."
This isn't the first time Teigen has spoken out about her trouble conceiving a child with her husband. On an episode of Tyra Banks' new show FABLife, Teigen said, "I am so tired of seeing on my social media, 'Why don't you have kids? Why don't you have kids?' You don't know. You don't know what I'm going through."
Teigen's point, which echoed that of many women, is that pregnancy and conceiving are more complicated than many realize. But that doesn't stop people from asking the question and making assumptions about women's bodies.
Getting real about pregnancy, with our most TMI celeb: If anyone was going to give an honest, unvarnished look at pregnancy, it would be Teigen. 
The model with a massive social media following has no qualms about showcasing the less-than-pretty sides of life, famously showing her stretch marks in a selfie ("Stretchies say hi!" reads the caption) and repeatedly fighting Instagram's anti-nudity policy with multiple skin-baring photos. She also doesn't mind getting candid about her sex life. In short, Teigen embraces the sort of TMI that should make her pregnancy an enlightening journey for all of her followers.
For something over 200 million women in the world experience every year, pregnancy is still shrouded in misunderstanding and mystery, with many women feeling confused, ashamed or alone in their experiences of miscarriage, abortion, stillbirths and postpartum depression. Certain stars have broken the silence on these issues recently, from Hayden Panettiere opening up about her post-pregnancy depression to Kim Kardashian discussing her IVF treatments.
"I will say, honestly, John and I were having trouble," Teigen said on FABLife, explaining that she and Legend have seen fertility doctors along the way. "Once you open up about all those things to other people, you start learning that a lot of other people in your life are seeing these people, and they have this shame about it." 
Teigen's outspokenness can help lessen that sense of shame around conceiving, as well as the many other challenges pregnant women face. Just keep your eyes trained on her Instagram.