Wave of Terror Attacks in Israel, Including a Bus Ambush, Leaves at Least 3 Dead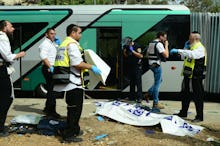 Israelis were targeted in four separate terrorist attacks Tuesday amid renewed violence between Palestinians and Israelis; one such attack involved a bus ambush in Jerusalem. 
In all, the assailants killed two people and injured 16; one of the attackers died, while the other was shot and detained.
Israeli police also reported people being hit at a bus station by the driver who then got out of his car to stab them — while most victims were left wounded, one of them may have died, according to some reports. On Monday in Jerusalem's Old City, a Palestinian man stabbed an Israeli border police officer in his protective gear, leaving the officer unharmed and the assailant dead after being fatally shot in response.
Violence between both sides in recent weeks has left 25 Palestinians (nine of whom were involved in attacks) and five Israelis dead. There have now been 17 stabbing attacks targeted against Israelis and a number of similar attacks against Palestinians in the past week alone. 
What reignited tensions? Trouble began during Rosh Hashanah, from Sept. 13 to Sept. 15, when an influx of Jewish visitors to Dome of the Rock, a holy site for all Abrahamic religions, precipitated clashes between Israelis and Palestinian Muslims who were praying at Al-Aqsa Mosque on the same compound. The ensuing month has seen spasmodic violence between the two sides, which show no signs of abating. 
Hamas applauded those who have orchestrated attacks against Israelis. 
Hamas "praises these heroic operations in Jerusalem and greets the heroes who carried them out," Sami Abu Zuhri, the organization's spokesman, told Associated Press. 
Meanwhile, at the site of the bus attack, one Israeli man yelled at Palestinian passers-by, "They are cannibals," according to the BBC, while others yelled, "close their villages" and "death to the Arabs."
Israeli security forces have been both praised and condemned for their fervent reactivity. Those supporting the state's response argue it is the only way to defend its citizens against the swelling violence. 
Based of video footage of some of the incidents, however, certain human rights groups argue the "officers appeared to have acted too aggressively, firing at suspects who did not appear to be presenting any immediate mortal danger, and at times shooting to kill," the New York Times reported.