These Are the Dressing Room Mantras We Need When Shopping for Jeans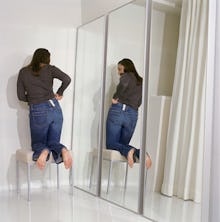 Unless they're literally magical, jeans require a near-perfect fit; unlike, say, body-slimming dresses, denim pants must account for every contour of our lower halves. That makes denim shopping painful (sometimes literally). It's no wonder market research firm Synovate found in 2008 that 16% of women would rather go bathing suit shopping than buy a pair of jeans. 
"'Do these jeans make me look fat? Are those creases supposed to be there? Do these make my butt look good?' The questions running through our head when shopping for denim are endless," New York personal shopper Val Halfon told Mic. 
The crazy thing: We've been wearing jeans basically since we've been out the womb, yet so many still find buying them to be a nightmare. It doesn't help that the jeans du jour are flares, attempting to upend years of our skinny denim devotion.
But there are ways to ease the stress. Mic asked denim experts for their advice. Next time we find yourself in the dressing room, seething and struggling, these are the mantras to repeat:
"Just take things one step at a time."
Research is the first step, especially when digging into a trend like flares. Instagram and denim-devoted blogs are good places to get some inspiration and decide if you want, say, huge bell bottoms like Kylie Jenner or more compact flares like model Alessandra Ambrosio.  
Then, don't rush into the next steps: sizing, then style. 
"Choose at the most three different styles, in order not to get lost," Lisette Geller, managing editor of Denimology, told Mic. "Then ask the sales person to bring you each style in only one wash first to try on. After you have decided on the style, let them show you the available washes and then you try on these."
See? One step at a time. Breathe — you got this.
"It's perfectly OK to ask for help." 
We already feel vulnerable when slipping out of our cherished leggings in the dressing room — might as well swallow our pride and ask for help when shopping for denim. 
Mid-morning or mid-afternoon during the week is the best time to get attention from store staff, according to Geller. It also means you miss the weekend scrum for the last low rise flares in your size. 
"If you are working, try to take a late or earlier lunch break to do your shopping," she suggested. 
"It's the shoes' fault."
Yes, shoes do matter. Unlike versatile skinny jeans, for example, flares can be tough to pull off with flats. You'll likely be pairing your new flares with boots or heels, so make sure you wear the correct footwear when you go shopping.
"Keep in mind which shoes you intend to wear with them, so you can make sure they're long enough for your three-inch wedges and your five-inch stilettos," said Halfon.   
Same goes for shirts. Fall's ubiquitous flares will look much better with a narrow top, for example.
"The best way to wear flares is with a cropped jacket and a more fitting shirt or sweater to make your whole body look in shape," said Geller. "Leave slouchy and oversized for skinnies or boyfriend jeans."
"Sweating the small stuff is actually a good idea."
Finding flattering jeans is all in the details, according to personal stylist Sarah Perpich of Stylish Sarah.   
"High pockets show a perkier bottom, and a high rise makes your legs longer and pulls in your tummy area," she told Mic. 
Same goes for the controversial practice of distressing (read: purposeful holes and rips), which some experts say can be particularly flattering if well-placed. Even check the knees. "When you have the knee position a little bit up, on top of the true knee, you have the illusion that the legs are longer," Anne Taverniti, a creative director at Siwy, told Refinery29. 
Being obsessive and stressing over details? It's a good thing.
"It's not you, it's the jeans."
Don't feel suckered into a trend that you don't love your body in. Culottes, flares and crop tops might be fresher than skinnies, but if they don't work for you, stick with comfortable classics.   
"Newsflash: Not all trends work on all body types," said Halfon. "If flares don't suit you, stick with what you know," 
That also means that you shouldn't feel dismayed if a certain size doesn't work. 
"Trying on jeans is like trying on a bathing suit," Kristen Philipkoski, editor of Eat Sleep Denim, told Mic. "It forces you to take a good hard look at your body from the waist down. I think we're all too hard on ourselves."
Jeans sizing is massively flawed; the same person can be a 10 in one store and a 16 in another, as one BuzzFeed experiment revealed. Part of the problem is that there's no universal sizing system; another part is that the standards we do have are archaic. (When sizes started standardizing in the 1940s, fashion historian Lynn Boorady told Time, "Mostly it was assumed that the women in the house would know how to sew.")
We don't know how to sew now, nor do we know how to find the perfect jeans on the first try. But we can realize that it takes a cool head, some deep breaths and a positive outlook.
As Philipkoski put it, "Jeans are all designed differently. If one style doesn't look awesome, blame the jeans, not yourself."