One Model's Quote Nails the Problem With How We Treat "Sexy" Plus-Size Women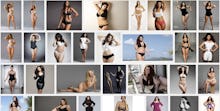 Ashley Graham is not shy about how much she loves her curves — and how much she wants other women to love theirs. Indeed, the 5'9" "plus-size" model has built a career on championing the message that curvier women can be sexy, no matter their dress size.
Unfortunately, as the fashion world embraces plus-size women, that embrace tends to one extreme, leading to the sexualization of plus-size women in media.
"Curvy bodies have always been the sexier bodies in fashion," Graham told Details in a new interview, and that can be a problem:
"Curvy bodies have always been the sexier bodies in fashion. Any model who is strictly a lingerie model, she has fuller breasts and fuller hips. Girls who are much thinner, who might be a size zero with no T&A, are not the Victoria's Secret model. And it just goes to show that a curvier body is considered sexier. So if you get an even curvier body, like mine, we're automatically sexualized. If I was cast in a role in a movie, I know without a shadow of a doubt that I would be the sexy girl, I would have a sex scene, I would probably have to show a little nipple. That would just be the case, because of the way my body is."
Body-positive activists have long argued for more representation of plus-size models in media, but that representation often comes in a one-dimensional format. 
Model Tess Holliday has been heralded, but she's often styled with a classic, bouncy hair and red-lipped pinup look (or like Venus). Candice Huffine's biggest mainstream gig to date was becoming the first plus-size model to star in the Pirelli calendar, in which she wore latex lingerie that exposed her breasts.
Graham made history as the first plus-size model to be featured in an ad in the swimsuit edition of Sports Illustrated, a notable breakthrough but yet another in which the achievement was one of sex appeal. She was, after all, wearing teensy bikini like so many of the other models in the issue.
The over-sexing of plus-size bodies in fashion is indicative of a wider societal tendency. Earlier this year, a high school student in Harrisburg, Pennsylvania, was suspended after she showed up at her high school prom wearing a long-sleeved, floor-length gown that school officials deemed inappropriate. The teenager's mom told the local press that the reaction was most likely due to the fact that her daughter is plus-size and not flat-chested, PennLive.com reported.
That inclination to oversex is also visible in Hollywood. "I think any woman who is curvy and wears a gown to an event is, like, super-sexualised," Scarlett Johansson told Elle UK in 2012. "Throw on an evening frock and it's like all of a sudden you have boobs and everyone is like, 'Bombshell!'"
Yes, curves are great. And yes, they can be sexy. But that's not the only way curvy bodies can — or should — be presented. As Graham said in her now-famous Ted talk, "My body, like my confidence, has been picked apart, manipulated, and controlled by others who didn't necessarily understand it. 
Once I reclaimed ownership over my body, I discovered a greater purpose as a woman who was defying preconceived standards of feminine beauty."