'Playboy' Will No Longer Publish Nudes In an Effort to Evolve — But It's Missing the Point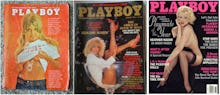 It was revealed Monday that Playboy, the magazine launched by Hugh Hefner that has become synonymous with T&A in American culture, will stop publishing, well, T&A. 
In a statement to the New York Times, executive Cory Jones said Playboy, which quietly removed nudity from its website last year, will now be publishing exclusively PG-13 content, as well as the long-form investigative journalism that helped make it famous. The decision to stop publishing nude photos, Playboy hinted, was largely spurred by two things: flagging sales and the widespread availability of free Internet porn.
"That battle has been fought and won," Playboy Enterprises CEO Scott Flanders said of the fight against Internet porn, to the New York Times. "You're now one click away from every sex act imaginable for free. And so it's just passé at this juncture."
But it's more complicated than that. To a certain extent, Playboy's decision to remove nudes is a classic instance of an old-school media brand pivoting to fit the times. (We reached out to Jason Burhmester, the editorial director of Playboy, for comment and will update if we hear back.) In its effort to capture hipper, younger millennials, the New York Times mentions the possibility of Playboy rebranding itself as a higher-end Vice (which, considering Vice is basically a direct beneficiary of the Playboy legacy, is kind of like ABBA saying it's trying to rebrand itself to be more like the ABBA cover band A*Teens.)
But for sex-positive feminists who have been tracking the publication's slow decline since the dawn of the Internet (the media empire now makes most of its money from overseas licensing), news that Playboy is getting rid of its nudes spurs multiple, conflicting reactions. 
On one hand, given the magazine's and Hefner's fraught relationship with feminism, removing nudes is clearly a bid not only for mainstream respectability, but also for the hearts and minds of a new wave of sex-positive feminists, who applaud sexual expression but sneer at objectification culture. And considering this is a brand owned by a man who, according to one of his ex-girlfriends' accounts, assigned a woman to act as his literal dick wiper every night, this could be a step in the right direction. 
On the other hand, it could be argued that Playboy's rebranding is a reflection of a culture that has gotten simultaneously more sex saturated and more puritanical, more tolerant of sexual expression behind closed doors but less tolerant of it out in the open. 
Today's world is one where a Pornhub search for lesbian MILFs is bookmarked in every teenage boy's browser, but that teenage boy's mom will lose her marbles if she saw Azealia Banks' nipple peeking out of a magazine stand in Wal-Mart. It's a world where automated blowjob machines sell out within minutes, but Apple won't host an app that features anthropomorphized vulva; where Instagram decides to ban photos of breastfeeding but allows Dan Bilzerian to post a photo of himself motorboating a porn star's in a thong.
It's a world where sex exists, but only behind closed doors, a world that vacillates between two poles of prudishness and oversexualization — and it's one that Playboy, with its journalistic pretensions and shots of primly crossed legs showing a hint of trim pudenda, can simply no longer exist in. Even though Playboy has always touted itself as pornography for the thinking man, that's no longer a thing in today's world. You have to be sexy or smart. You can't be both, but you have to choose one or the other.
Much as Playboy has always touted itself as pornography for the thinking man, the conflict between our society's prudishness and oversexualization is one Playboy can't seem to square. Instead, by getting rid of the mildly titillating, airbrushed nudes that made it famous rather than replacing them with images that are more appealing to savvy millennial readers, Playboy may very well be actively betraying the devil-may-care, sex-positive identity that is its legacy. 
Making Playboy sexy again: There's also another element at play: We now live in a world where the average sex symbol doesn't necessarily have to look like Miss July 1989. 
Thanks to the power of social media, a new wave of sex symbols has replaced the trim torsos, mermaid-length blonde hair and tawny limbs we've seen gracing magazine covers. Instead of women like Barbi Benton and Pamela Anderson and Victoria Silvstedt, we have Kerry Washington, Lupita Nyong'o, Zendaya, Amy Schumer, Melissa McCarthy, Tess Holliday. While mainstream culture has a long way to go, it has become increasingly acceptable to say, "We are tired of being told we have to lust after slim, conventionally attractive white women with trim pudenda and the proportions of an upside-down kettlebell. We'd rather lust after women who look a little more like us."
In response to claims that Playboy was sexist, Hefner would repeatedly declare it wasn't. Instead, as Jones told the New York Times, it "celebrated the beauty of the female form." Yet during its 62-year run, feminists have continued to accuse the magazine of objectifying women and perpetuating tired beauty standards.
As it turns out, both Hefner and the feminists were right. At its best, Playboy was and is about celebrating the female form — it's just that this form was limited by the culture's ideas of what women's bodies should look like. But now that this idea is rapidly evolving, Playboy would do better to evolve with it and feature a wider range of bodies, a wider range of races — as online porn, to a certain degree, actually has.
It should celebrate the sexuality of black women, fat women, queer women, disabled women and countless more who have long been counted out of beauty standards. What matters is that it continues to celebrate the sexuality of women across the board.
The magazine can't be faulted for addressing feminist concerns and trying to reach a wider, savvier millennial audience. But instead of bringing the enormous spectrum of human sexuality to the forefront, as is its birthright, Playboy is abandoning its mission. Instead of giving its brand of sex positivity a 21st century makeover, it's quietly retreating back into the boudoir, wiping off its makeup and covering itself up with a schmatta.