Watch President Obama Introduce Future President Kanye West at a DNC Fundraiser Concert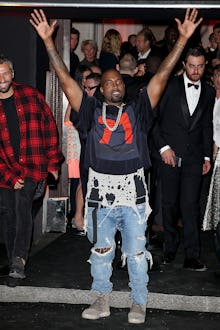 Kanye West is still serious about running for president in 2020. Since announcing his intentions at the MTV Video Music Awards in August, West and his wife Kim Kardashian have both spoken about it in interviews. This past weekend, he made his most direct foray into the cutthroat political world by performing at a Democratic National Committee fundraiser in San Francisco. 
Billed as an "afternoon concert" at the Warfield, Saturday's event sold tickets reportedly between $250 and $10,000. President Barack Obama introduced the rapper, making Obama the highest profile opener West has ever used. Obama couldn't resist joking about the prospect of a West bid, but he did note stranger things have happened.
"Do you really think that this country is going to elect a black guy from the South Side of Chicago with a funny name?" he said. "That's cray."
Before West's set, Obama offered advice on what he could expect from life in Washington.
"First of all, you've got to spend a lot of time with some strange characters who behave like they're on a reality TV show," Obama said. "You've got to be cool with that. Second, saying that you have a beautiful dark twisted fantasy? That's what's known as 'off-message' in politics. You can't say something like that."
When West took the stage, it was all music. There were no jokes, no visionary streams of consciousness, just hits. He did not debut any new material, as rumors had suggested, but all the classics: "Power," "Through the Wire" and "Can't Tell Me Nothing" were front and center.
It may just have been a show, but come 2020, pundits may call this West's first baby steps toward the White House. Watch the full concert below.
h/t Complex