The Genius Way Cam Girls Hack Their Vibrators to Literally Orgasm to Money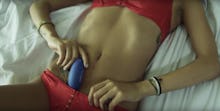 Technologists have spent years dreaming up ways of revolutionizing our sex lives, from futuristic vibrators to fully immersive virtual-reality sex scenes. But the real innovation comes from the women performing NSFW shows on cam sites. They're taking futuristic sex tools and putting them to good use.
Models who perform on sites like Chaturbate have used technology to perform the ultimate feat of capitalistic joy: literally orgasming to the sound of money. They've been using a line of digitally enabled vibrators to make their live streams more interactive, setting them up to vibrate when an alarm goes off after viewers submit online tips.
"The more tips a cam girl receives, the more intensely her vibrator responds, meaning the more viewers are willing to pay, the hotter a show they'll get," Lux Alptraum wrote for Motherboard. "For Chaturbate cam girls, who spend most of their time hustling for tips in 'free' public rooms, this is a pretty easy way to ramp up income."
Some bloggers have called it an unrealistic scam, meant to dupe people into handing over money for fake orgasms. So Mic reached out to OhMiBod, the company that manufactures the vibes, to ask how these cam girls had managed to turn the sounds of just a tip into an IRL orgasm.
Welcome to "teledildonics." It's the field of tech-enabled remote sex devices and arguably the best new word of the 21st century. OhMiBod vibes have more than an on-off switch: They're designed so the chip set responds to varying levels of noise, so that you can get yourself off to the throbbing beat of Beyoncé's "Partition" if you damn well please.
The various models of OhMiBod toys — small vibes, wearable panties and insertable G-spot stimulators — respond to sounds fed in via Bluetooth, radio frequency or a hard cable.
"Creating different sounds, volumes and beats, means the vibrator reacts differently to each and with different inflection points," OhMiBod co-founder Brian Dunham told Mic. "With every song, you get a different vibration pattern and varying levels of intensity depending both on the beat of the music, and the volume level, i.e.: intensity."
The next step is to train the vibrator to respond to tips. When using Chaturbate, customers who leave tips of various levels also trigger a small alarm sound — louder for big tips, quieter for small tips. Then, that sound can be fed through an aux cord (or places near the vibrator's receiver). OhMiBod's range of vibes and toys have different setups, but for the most part, a sensor is either placed near to the tipping alert sound, or patched right in.
Because the vibrator responds to the different levels of sound with different strengths of vibration, viewers will often see a notice that says something like this in the room's chat:
It's an ingenious way to create a captive audience. Whether you're playing video games on Twitch or doing a Periscope "Ask Me Anything" session, live-streamers rely on audience engagement. An audience that's hoping to witness an orgasm might increase the frequency of tips or the tip amount in order to escalate the stimulation. It's a win-win situation: Viewers get more control and the feeling of a more personal, one-to-one connection.
Additionally, Chaturbate creates goal amounts for tipping. Certain tip amounts might be needed to keep the channel open, or a model might trade certain milestones for articles of clothing. The teledildonics tipping hack offers an interactive experience along the way, incentivizing spontaneous tipping, even in small amounts.
So next time you enter a cam room, remember: Money does more than just talk.