Jennifer Lawrence Blasts Hollywood's Gender Pay Gap in Op-Ed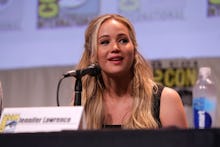 Jennifer Lawrence may be the highest-paid actress in Hollywood, but that won't stop her from speaking up about the gender pay gap.
In an op-ed for Lenny, Lena Dunham's newsletter, Lawrence took the film industry to task for underpaying women for the same work men do. 
"When the Sony hack happened and I found out how much less I was being paid than the lucky people with dicks, I didn't get mad at Sony," Lawrence wrote, admitting her problems aren't the most relatable. "I got mad at myself. I failed as a negotiator because I gave up early. I didn't want to keep fighting over millions of dollars that, frankly, due to two franchises, I don't need."
Lawrence is indeed a special case. She's one of the only women in Hollywood out-earning male co-stars, beating Chris Pratt's salary on their upcoming movie Passengers by $8 million. And it's true not every woman has two franchises to her name. The issue isn't just about money, however: It's about an industry — a working world, even — that devalues and silences assertive women.
"Based on the statistics, I don't think I'm the only woman with this issue," she wrote. "Could there still be a lingering habit of trying to express our opinions in a certain way that doesn't 'offend' or 'scare' men?"
A lot of what Lawrence talks about is the self-doubt she feels about negotiation. She specifically name-checks her American Hustle co-stars Jeremy Renner, Christian Bale and Bradley Cooper as men who successfully got bigger deals because they, well, hustled. Meanwhile, she was stunted by worries she'd come across as "difficult."
This is an understandable complex. When there's so few roles for women in Hollywood anyway, any misstep feels like it can drop even the most A-list actress to the bottom of the barrel. Until the attitudes toward assertive women change in the industry, actresses will likely be riddled with fear.
"I wasn't completely wrong when another leaked Sony email revealed a producer referring to a fellow lead actress in a negotiation as a 'spoiled brat,'" she concluded. "For some reason, I just can't picture someone saying that about a man."
Read Lawrence's op-ed by subscribing to Lenny here.