Disturbing Video Shows Georgia Deputies Tasing Unarmed Black Man Restrained in Chair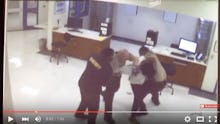 Matthew Ajibade, 22, died in police custody Jan. 2 in Georgia. Graphic video from the night before sheriff's deputies found his body reveals his brutal treatment at the hands of law enforcement.
Footage obtained by NBC News shows Ajibade being beaten and kicked by a group of deputies at the Chatham County jail in Savannah, Georgia, on New Year's Day. Ajibade was detained after what his family said was a "bipolar episode," during which he allegedly hit his girlfriend and broke a deputy's nose.
A second video shows deputies using a stun gun on Ajibade's genital area while the 22-year-old appears to be restrained in a chair. In the approximately one minute and 20 seconds of footage, a red dot is seen drifting over Ajibade's thigh and groin, indicating where the stun gun is pointed. He can be heard screaming as the low-current pulse is applied.
Warning: Graphic footage
The deputy who used the stun gun, Jason Kenny, has been charged with aggravated assault and cruelty to an inmate and was fired in May.
The footage was shown Friday to a grand jury, where one Chatham County jail health worker and two more deputies, Cpl. Maxine Evans and Gregory Brown, are being tried for involuntary manslaughter and reckless conduct in connection with Ajibade's death, NBC News reports.
The outlet also reports that Evans and seven other deputies who were on duty that day were fired along with Kenny. In June, the coroner ruled Ajibade's death a homicide. The 22-year-old reportedly had scrapes, bumps and abrasions on his upper body and head, and was still wearing a spit mask used to cover his face during the video when deputies found him dead.
Mark O'Mara, the attorney who got George Zimmerman acquitted of murder in July 2013 and who is now representing Ajibade's family, called the video "disgusting and vile," telling NBC News, "It's nothing less than torture. It's sadism."
Ajibade is one of 217 black people killed by police this year in the United States, according to the Guardian. In addition to the nationwide backlash against anti-black police violence over the past year, police have faced intensified criticism for their treatment of the mentally ill. According to a Washington Post report from July, one-quarter of the people killed by police in the first six months of 2015 exhibited signs of mental illness.
The Chatham County Sherriff's Office did not immediately respond to Mic's request for comment.
h/t Gawker