4K Apple iMac 21-Inch: Latest Photos, Features and Price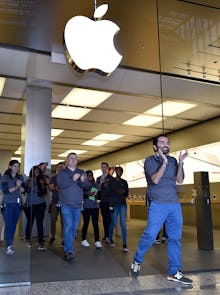 Apple launched its first 4K model for the 21.5-inch iMac on Tuesday, marking the first time in more than two years that the smaller iMac has had a significant upgrade, the Verge reports.
The model's 4K display (named for the number of pixels in the monitor) is meant to provide a better viewing experience with more vibrant colors. A keyboard and trackpad upgrade allows users to charge batteries faster and use "Force Touch" to unlock different commands, respectively. 
The 21.5-inch 4K iMac is available Tuesday and retails starting at $1,499. 
Here's a look at the first images of the 4K screen and the features stacked into the new iMac. 
4K and more RAM: Leading the charge is the iMac's 4K screen, but that's far from the only upgrade coming. "The RAM has improved from 8GB of 1600MHz LPDDR3 to 8GB of 1867GHz LPDDR3, upgradeable to 16GB," the Verge reports. This should make the iMac experience much faster, along with improved graphics. 
Here's a look at the screen quality, from Apple's website: 
Upgraded keyboard and trackpad: Apple's keyboard gets an upgrade as well. In older models, the batteries in the keyboard had to be removed and replaced at the end of a charge, but with Apple's new and improved redesign, the batteries never come out. Now users can plug in the lightning connecter to the keyboard and receive a full charge in two hours, according to Apple's press release. 
The Apple Magic Trackpad is also getting a redesign. The company's website has boasted that the Magic Trackpad 2 has a larger surface area and the ability to use Force Touch. The feature will allow a user to unlock different actions and options based on the force their finger exerts. Of course, Force Touch and the larger surface area come at a cost for consumers: a $129 price tag, nearly double previous versions. 
These accessories will come standard on the 4K iMac models.
What this means for Apple: The new 4K iMac's could give a boost to what has been slower sales for Apple in recent months. CNET reports that Apple's sales numbers on Macs (both MacBooks and iMacs) are its lowest in two years. While the report also states that Apple is outperforming its competition, it's still the industry belief that desktop and laptop sales are increasingly harder to come by, given more widespread access to smartphones and tablets.