Can a High-Tech Mirror Really Improve the Hellish Experience of Bra Shopping?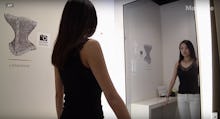 Here is an internationally known and acknowledged fact: Bra shopping is the fucking worst. 
The dressing room lighting sucks, and the process of examining one's naked body up close is less than appealing. But the main issue is fit — somehow, even with measuring tapes, women are often left guessing what bra size they really are. 
Luckily, a new, high-tech mirror is here to help. 
This magic mirror, believe it or not, supposedly has the ability to tell you what bra size you really are. Currently installed in two locations of lingerie retailer Rigby & Peller, in Hong Kong and London, the mirror scans for more than 140 distinct measurements as customers stand before it and do a 360-degree turn. 
According to a video posted on Mashable, the results of the scanning device, which is called "Catherine," gives each customer their "ShapeID" and translates it into an exact size, along with bra options at Rigby & Peller and elsewhere. 
Another key feature of the mirror, according to Bustle, is that it actually takes photos of you in the bras you've tried on. No more selfies or trying to remember (what's remembering?) what you actually looked like in that white lace number, because Catherine's got you covered. 
The technology, while not widely tested, aims to eliminate the endless, maddening trial and error that comes with bra shopping. Instead of customers skimming racks and grabbing bras in numerous sizes and styles, one scan could tell you all.
The whole thing sounds pretty ideal, but, of course, there have been plenty of techy attempts to solve the traumatic experience of bra shopping. The Internet 1.0 world of bra shopping brought us bra size calculators, which rely on self-reported measurements. Now there are more innovations trying — but so far, only somewhat successfully — to change the bra shopping game.
Using online quizzes to find your bra match: Of the recent digital efforts to revolutionize bra fitting, the most widely publicized is from online retailer True & Co. The lingerie brand's empire was founded to swap out the hassle of fitting rooms, measuring tapes and photography for a simple, two-minute online quiz. 
By answering True & Co.'s questions, customers identify their preferred taste in terms of bra styles, shapes and fits — Do your boobs hang low and wide? Are they "full all over"? — and are then offered their very own "shop" with bras they might like. True & Co., founded in 2011, also offers the option of trying on these bras at home, with free returns within 30 days. But reviews so far have been mixed.
Another site uses customer data to try to find the perfect fit. Brayola, founded in 2012, is all about algorithms and crowdsourced opinions about which bras are great and which are not. 
According to the company's website, customers share information about the bras they currently own and love, with the ability to select from dozens of brands in every size imaginable. Brayola then takes that info and crunches it with other bra-sizing info entered by site users, and creates for each customer a personal, virtual dresser full of bras the customer might like. 
Brayola also offers crowd-sourcing platforms called #bmodel, where customers can see how bras look on women who are not lingerie models, and Fit or Not, a feature with images uploaded by customers to poll whether or not a bra actually fits properly. 
Taking selfies to nail the perfect fit: For the tech-savvy woman who's willing to upload a few images of herself awkwardly standing in a mirror, there's the bra sizing app and online store ThirdLove. What this app (available for iPhone, with Android coming soon) offers is the opportunity to size yourself at home with just two selfies. 
Unlike bra size calculators of the past, which were so 2000-and-late and relied on measurements, ThirdLove, which was founded in 2013, uses technology to analyze two images taken by the customer in a mirror while wearing a tight-fitting top or just a bra. The app then examines the images, maps the customer's shape, tells them their size and offers a list of bras it thinks will work for them. It's a very futuristic solution to a complex problem. 
As with any innovation, though, some people have cried "underwhelmed," but for some, this app might just work. 
Mic has reported time and time again on the innovations in technology for bras themselves. Now in the year 2015, more companies are finally paying attention to the difficulties that come with bra shopping, with a "smart mirror" as just the latest. 
It's a task no woman in her right mind looks forward to — but hopefully with better technology and more companies listening to what women really want, shopping for a bra eventually won't suck quite so much.