This Nicki Minaj Parody on 'Ellen' Shows We Still Don't Respect Black Women's Bodies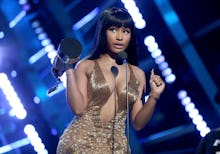 If you think there's something funny about making a pre-teen girl wear a big fake butt and portraying a black family as bumbling idiots, then you're about to love this clip. 
On Monday's Ellen DeGeneres Show, Ellen introduced what she called a "very exclusive sneak peek" of Minaj's upcoming ABC Family sitcom based on her early life as a U.S. immigrant from Trinidad. 
While DeGeneres introduced the clip, she projected a famous shot of Minaj on all fours from her 2014 music video "Anaconda," the same image that was later formed into a semi-controversial wax figure at Madame Tussauds. The image garnered laughs from the audience. 
The clip, which evoked a quaint sitcom à la Family Matters, began with Minaj's mother chiding her for leaving her shoes around the house. The young girl (who looks nothing like the real-life Minaj) bounces down the stairs, then turns around, bends over and shows her butt to the audience — a big, prosthetic butt bulging from her pink neon pants. 
The actors portraying Minaj's family, who all have big butts, of course, knock over household objects with their posteriors and barely squeeze their collective derrieres onto the same couch. The family dog, Buddy, also has a big butt. 
As the clip concluded, DeGeneres said, "They have big butts. That's the joke." 
This is not the first time DeGeneres has felt privy to Minaj's infamous hindquarters. In 2013, DeGeneres dressed up in fake breasts and a fake butt as a Halloween tribute to the rapper. 
A year later, DeGeneres donned more prosthetic parts to play actress Sofía Vergara.
The entire affair, which veers into minstrel territory, did what many of Minaj's fans and detractors alike have tried before: reduce one of the most successful female rappers of all time to a big butt. This time, though, a little black child was involved. 
Minaj is a longtime friend of DeGeneres's show, where she has appeared numerous times to address her 2014 MTV Video Music Awards wardrobe malfunction, to squash beef with Mariah Carey and to convey the importance of staying in school to her fans. 
Minaj loves to rap about her body, and has joined DeGeneres in mutual laughs about her butt before. But Minaj's body is just that: her body. So let Minaj have the last laugh. 
h/t Gawker