This Baby Was 3-D Printed Before He Was Born — And It May Have Saved His Life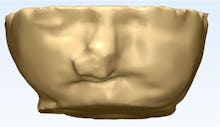 Nine-month-old Conan Thompson just made history, and he doesn't even know it.
When Thompson was a fetus, doctors at the University of Michigan successfully used 3-D printing to determine whether a lump present on his face might prevent him from breathing after birth. The lump was discovered after a routine sonogram, but the image left physicians unsure whether it posed enough of a threat to justify a potentially life-threatening emergency birth procedure.  
After the more comprehensive look that 3-D printing allowed, doctors at the university's Mott Children's Hospital determined that the situation was a false alarm and that Megan Thompson would be able to deliver her child through a routine C-section.
"I was terrified when I found out there was a possibility my baby might not be able to breathe after birth," Thompson told the university. "Hearing him cry after he was born was the most incredible, emotional experience because I knew he was OK."
The University of Michigan reported the procedure in a press statement, and a subsequent study was published in the journal Pediatrics. 
"It is [the] difference between a portrait and a statue," Dr. Glenn Green, an associate professor of pediatric otolaryngology at Mott, told Mic. He added in the press statement, "This is the first case we are aware of that 3-D printing has helped show how severe an airway risk in a fetus was in order to make clinical decisions."
While this might be the first case to assess airway risk, the science of using 3-D tech during pregnancy predates the Thompson fetus. A hospital in Japan made headlines in 2014 after offering new mothers a chance to take home a 3D-printed fetus. The procedure offered at the Hiroo Women's Clinic, however, was more about novelty and nostalgia than saving lives. Still, a Euronews report at the time proved prescient, noting "3-D modeling can be used to improve the health of babies and mothers in the future." 
 "3-D modeling can be used to improve the health of babies and mothers in the future." 
It's also not the first time the University of Michigan has experimented with groundbreaking 3-D printing solutions to solve some of the toughest medical challenges. In 2013, another team that included Green used the technology to create a tracheal splint for a baby with tracheomalacia, a rare breathing disorder. The novel approach was successful. 
The value of 3-D printing across a number of fields has grown significantly in recent years. Today the technology is being explored in colonizing outer space, restoring lost limbs, renewable energy and even saving wounded sea turtles. Thompson, who is now approaching his first birthday, is only the latest success story.