Embarrassed to Dine Alone? This New Survey Might Change Your Mind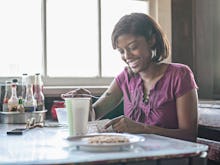 Have you ever just wanted to head over to the local Outback Steakhouse all by your damn self to indulge in a Bloomin' Onion and a tall Foster's while contemplating the meaning of life (or whatever)? Have you ever resisted that urge because you worry that all the other Outback patrons would judge/pity you for being out in public alone (which is ridiculous, because hello, they're also dining at Outback Steakhouse)? 
If you're all, "Yes!" and "Yes :(" right now, then a new study from the dining reservation service OpenTable is here to give you some great news:
Single-person restaurant reservations have risen 62% nationwide over the past two years. In other words: Going out to eat alone does not make you a pathetic loser! It's a thing that people actually do — and they love it. 
Caroline Potter, OpenTable's chief dining officer, stated in a press release that the trend is probably a reflection of America's love affair with dining out, even when individuals can't find someone to accompany them. It's also indicative of diners' increasing desire to treat themselves to an Instagram-worthy meal whenever they can. (It might very well also have something to do with the relatively recent rise of solo travel: 24% of people reported in a 2015 worldwide travel survey that they traveled alone on their most recent vacation, as opposed to 15% in 2013, the New York Times reported.)
"As dining out has become one of our national pastimes, solo diners are taking every opportunity to visit top restaurants whenever they get the opportunity, much as they might attend a sporting event or show," Potter said in the release. "Solo dining is about treating yourself to a delicious experience and savoring every bite. From communal and counter seating to doting table service, restaurants are welcoming parties of one with open arms."
This cute lil' revelation comes shortly after designer Kate Spade teamed up with Anna Kendrick for an ad showing Kendrick trying to overcome her embarrassment after being stood up at New York's Russian Tea Room. Ultimately, Kendrick comes to the realization that dining alone can be glamorous AF — particularly when a $398 gnome purse and a surprise cameo by legendary feminist icon Gloria Steinem are involved.
But even without such luxurious trappings, dining alone has all kinds of obvious benefits, from not having to engage in bullshit small talk to being in total control of restaurant selection to taking a breather from the real world to be alone with your thoughts.
Not to mention being able to order whatever the hell kind of greasy appetizer you want. Hello, Bloomin' Onion. Nice to see you again, old friend.