Fetty Wap and French Montana Are Releasing a Mixtape 'Coke Zoo' - Here's What We Know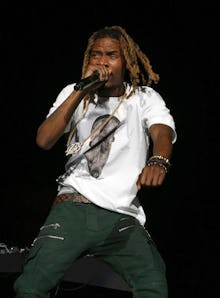 Fetty Wap and French Montana are two of the biggest names in hip-hop right now, and word arrived over the weekend that they're teaming up for what should be one of the fall's hottest mixtapes. In an interview with Revolt over the weekend, Zack Montana, president of Coke Boys Records and brother of French Montana, revealed the two are working on a mixtape called Coke Zoo.
The tape is reportedly seven tracks deep, and the release could come in a matter of days. For those who've been wondering why these artists have been featured together recently, Coke Zoo might be the answer. 
For French Montana, a release in October would be the first of two sets of new music for the artist. His new record, Mac and Cheese: The Album, is scheduled to be released on Oct. 30, his latest offering since his Mac and Cheese 4: The Appetizer mixtape in 2014.
Fetty Wap is coming off a big year, with 2014's "Trap Queen" climbing the Billboard charts this year along with the release of his self-titled debut album in September.
The anticipated mixtape comes after rappers Drake and Future dropped their surprise joint mixtape What a Time to Be Alive in September, which debuted at No. 1 on Billboard's 200 chart of the most popular albums of the week.