Watch a Baltimore Police Officer Spit on a Handcuffed Suspect on the Ground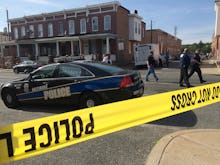 Video uploaded to Twitter on Monday shows a Baltimore police officer spitting on a suspect during an arrest. The footage has been making the rounds online among outraged activists. 
A subsequent video, taken from another angle at night, shows the white Baltimore officer standing over a man while placing him in handcuffs. About three seconds in, the officer jerks his head back and spits on the man, whose name has not yet been released. The act is audible on the video. 
Immediately after, an unseen number of people off-camera begin accusing the officer. "He just spit on him," a woman shouts.
The videos were shot by unnamed bystanders, then both were uploaded to Twitter by 21-year-old social activist Kwame Rose. This is the second video, which more clearly shows the officer's actions. 
Rose told Mic that he was in contact with the man's family and that so far no information was being released. 
Rose added that it was unclear exactly who the offending officer was but that he was a sergeant. Rose said he and others are now demanding his termination.
The altercation reportedly began when the officer approached the man near a bus stop and questioned him about a bookbag before throwing it on the ground. An argument ensued that ultimately led to the man's arrest.
"Spitting on another human being is dehumanizing; that's not a form of restraint," Rose told Mic. "The officer clearly violated his personal space, his personal rights and clearly disrespected him as a human being." 
For their part, Baltimore police released a terse statement on Twitter promising an investigation: "The Baltimore Police Department is aware of a video that has surfaced that purportedly shows a BPD officer spitting on a suspect. An internal investigation is underway."
Rose, however, told Mic that he and other activists would not be satisfied with an internal probe. "An investigation from Baltimore city police cannot be trusted," he said. "We're calling for an independent investigation."
Police and community relations in Baltimore have been on tenterhooks since the death of Freddie Gray on April 19. Gray died while in police custody from a suspicious spinal injury, sparking waves of protests and rioting in the city. On May 1, Maryland State's Attorney Marilyn J. Mosby announced that six officers would be charged in connection to the death.