Sarah Silverman Just Opened Up About Her Battle With Depression in a Powerful Article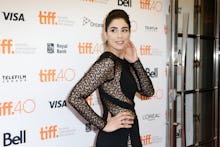 When you think of funny lady Sarah Silverman, who appeared in the criminally underrated 2001 film Heartbreakers (she's also done other stuff too), her lifelong battle with depression probably isn't the first thing that comes to mind.
But in a new article for Glamour, that's exactly what the comedian and actress is sharing with readers.
"I first experienced depression when I was 13," she told the magazine's Genevieve Field. She goes on to detail what would become a years-long struggle with mental illness, during which doctors prescribed her various cocktails of antidepressants. She's currently on "a small dose of Zoloft, which, combined with therapy, keeps me healthy but still lets me feel highs and lows." 
Silverman also provided a painfully honest description of how panic attacks feel for her. "People use 'panic attack' very casually out here in Los Angeles, but I don't think most of them really know what it is," she writes. "Every breath is labored. You are dying. You are going to die. It's terrifying. And then when the attack is over, the depression is still there. Once, my stepdad asked me, 'What does it feel like?' And I said, 'It feels like I'm desperately homesick, but I'm home.'"
Per data from the Anxiety and Depression Association of America, an estimated 14.8 million (or 6.7% of) Americans over 18 live with major depressive disorder, which happens to be "the leading cause of disability in the U.S. for ages 15 to 44.3." So Silverman is hardly alone in her struggle, nor is she alone in taking medication to manage her illness: According to 2012 data, 1 in 10 Americans currently take antidepressants.
Although Silverman has opened up about her depression in the past, she said that her reason for sharing this story had a lot to do with her forthcoming film, I Smile Back, in which she plays a depressed and self-medicating suburban mom, based on the book by Amy Koppelman. 
For anyone else going through a similar struggle, she had a powerful message to share: "Just know that on the other side, the little joys in life will be that much sweeter. The tough times, the days when you're just a ball on the floor — they'll pass. You're playing the long game, and life is totally worth it."
h/t Glamour