'Room' Signals the Arrival of Hollywood's Newest Star: Brie Larson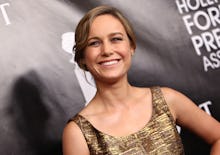 If one is to know which actors are on top in Hollywood, look at the casting notices. Who's replacing the hottest stars in their new projects? In 2015, there's no bigger actress than Jennifer Lawrence. Her replacement in the upcoming The Glass Castle, however, is poised to be even bigger.
Brie Larson is not new to Hollywood. She's been working since 1998 in TV and film. Those who grew up watching the Disney Channel may remember her as one of the racing sisters in the TV movie Right on Track. United States of Tara fans watched her play Kate for years on the Showtime dramedy. With memorable appearances in Scott Pilgrim vs. the World, 21 Jump Street and more, the 26-year-old actress has put her stamp all over the industry.
That stamp is about to turn gold. Larson is the star of Room, opening Friday in select theaters (with plans to expand next month). This is the role that will change her career. This is the role that will make her a star.
Though Larson has been working for nearly two decades, she's never had anything close to a breakout moment. She's been a dependable supporting presence in big-budget pictures (as the charming sister in this year's Trainwreck) or a lead in a tiny project (in Short Term 12).
All that work has given her a professional's work ethic and style. She's well-trained as an actress with years of experience than most her age. From a press perspective, Larson is primed to make stardom happen. On talk shows, Larson is charming but unaffected. Unlike a Cara Delevingne or even a Lawrence, she's not likely to get irritated or bored because she hasn't had the chance to be irritated or bored. 
Larson's reputation as refreshingly earnest isn't new, either. Last year, she covered New York magazine with actress Shailene Woodley in a story essentially about their friendship. She's the perfect combination of eager and skilled that rules on the press circuit. All she needs is a great role to seal the deal.
Her part in Room, as a kidnapped woman named Joy, is that role. Adapted from Emma Donoghue's 2010 book of the same name, Room follows Joy (referred to as Ma) and her son, Jack, as they live in a very small space. Unbeknownst to Jack, they're held against their will — Joy was kidnapped years before. Jack is the product of her sexual abuse.
Larson's work in the film has been called Oscar worthy, and for very good reason. She digs deep into the darkness of Joy, but sells her sunny façade to Jack with equal aplomb. Through Larson's work, Joy comes across as a real woman, a real victim. This could be a neighbor, a daughter or a best friend. She's relatable because Larson makes her relatable. In a story like this, empathy for the victim is crucial — and Larson inspires that in spades.
Larson is a likely nominee for the best actress Oscar next winter. Depending on how other movies fare — including Lawrence's Joy — she could win. Even if she doesn't, this will be her breakout.
It's interesting to compare Larson to Lawrence: both are actresses in their mid-20s, both are likely Oscar nominees. Yet there's something refreshing about Larson in a way that recalls when Lawrence first stepped onto the scene. If Lawrence has become Hollywood's ultimate cool girl, Larson is more like your warm, funny and, yes, relatable best friend. This is the age of relatability as power. In that way, Larson is the most powerful star in Hollywood.