CNN Democratic Debate 2015 Live Stream: Watch Live Online Coverage of Presidential Debate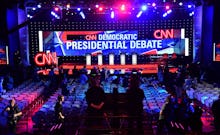 Tuesday evening kicks off the first of six Democratic primary debates for the 2016 presidential election. The party's five candidates will take the stage at 9 p.m. ET in Las Vegas and compete to win the favor of American voters. CNN is hosting the debate and the network's leading anchors, Anderson Cooper, Don Lemon and Dana Bash, will be the night's question masters. 
CNN will live-stream footage from the Wynn Hotel in Las Vegas beginning at 8:30 p.m. ET, and the debate is expected to end at 11 p.m ET barring any overtime. 
At stake for the presidential candidates is solidifying the front-runner position for the Democratic Party. The main spotlight will fall jointly on former Secretary of State Hilary Clinton and Vermont Sen. Bernie Sanders, though CNN's podium lineup places Clinton front and center with Sanders to her right. The official lineup is decided based on polls since Aug. 1. 
Three challengers will join Clinton and Sanders on stage Tuesday night — former Maryland Gov. Martin O'Malley, former Rhode Island Gov. Lincoln Chafee and former Virginia Sen. Jim Webb. O'Malley will debate to Clinton's left, and Webb and Chafee will occupy the outside podiums. CNN said it will reserve an empty podium for Vice President Joe Biden, in the event he decides to announce his candidacy and join the debate. 
Two core questions in the lead up to the debate include whether or not Clinton will attack her main challenger, Sanders, and how the Vermont Senator plans to differentiate his platform from Clinton's. Both Clinton and Sanders will keep a close eye on O'Malley, the progressive candidate who is considered to be the party's underdog. 
Viewers can join the conversation on Twitter using the hashtag #DemDebate. Donald Trump will be live-tweeting his two cents during the debate, an event the real estate mogul and Republican presidential candidate was quick to cut down.