Donald Trump Accuses Jeb Bush of Planting Lauren Batchelder in Crowd to Harrass Him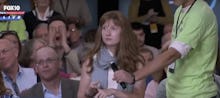 Donald Trump has a big problem — huge, some might say — with pesky audience members asking questions that force him to veer off the script. The business magnate was fielding questions from the audience at Monday's No Labels event in New Hampshire when a young woman named Lauren Batchelder (who happens to volunteer for fellow Republican hopeful Jeb Bush) highlighted Trump's elusive stance on women's rights. 
"So, maybe I'm wrong, maybe you can prove me wrong," Batchelder said as a volunteer held a microphone in front of her, "but I don't think you're a friend to women." Before asking her question, the stadium erupted in applause.
Trump quickly interjected.
"I knew I shouldn't have picked her," he told the crowd, waving his finger at the young woman as he turned back to his own microphone. "All right, so let me give you that answer right now: I respect women incredibly. I have had women working for me in positions that they've never worked in terms of construction, in terms of so many different jobs."
Trump continued to say he thinks he gave women more opportunities than "virtually anybody in the construction industry." Shortly after Trump finished his remarks, Batchelder was finally given the chance to ask her question: "I want to get paid the same as a man, and I think you understand that. So, if you become president, will a woman make the same as a man, and do I get to choose what I do with my body?" Trump shut down the question, replying, "You're going to make the same if you do as good a job, and I happen to be pro-life."
Following the event, the Burlington Free Press identified Batchelder, according to Newsmax. 
The real estate billionaire took to Twitter to shame Bush for his alleged involvement in the abrupt questioning. "The arrogant young woman who questioned me in such a nasty fashion at No Labels yesterday was a Jeb staffer! How can he beat Russia and China?" he tweeted Tuesday. "How can Jeb Bush expect to deal with China, Russia and Iran if he gets caught doing a 'plant' during my speech yesterday in New Hampshire?"
However, the Bush campaign responded to the accusations Tuesday, confirming Batchelder has volunteered for the campaign, but denied having any involvement in her questions during the No Labels event, according to NBC. 
"Like many in New Hampshire, Lauren is a student at St. A's who is passionate about and active in politics and attended this event on her own accord. While this question was not sanctioned by the campaign, we can't help but notice Mr. Trump does seem to be very sensitive about being challenged by women," a Bush aide told NBC. 
Check out the full interaction between Batchelder and Trump: