Chris Brown 'Royalty' 2015: Release Date and Tracklist for New Album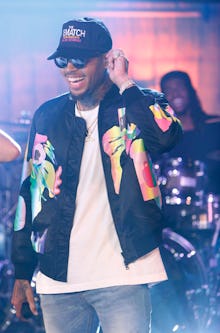 American R&B heavyweight Chris Brown has committed to a release date for his next album, in part thanks to the expected release of Rihanna's new album — Dec. 18, according to RTTNews. The forthcoming record, Royalty, named for the musician's 1-year-old daughter, is Brown's seventh studio album. Royalty follows last year's X and the collaboration album Fan of a Fan: The Album, which was released on Feb. 24  
"There comes a time when people kind of have to grow up and become more of an adult and take on different responsibilities," Brown has said of fatherhood, according to Rap-Up. "I think this was just a blessing in disguise with my daughter because I get a chance to look at her and teach her the right path and also be a father in my daughter's life."
According to Musictory.com, the album will boast 10 songs, with "Royalty" listed as the third track. To date, Brown has only released a handful of teasers from the forthcoming record, including "Liquor," which surfaced in June, and "Zero," which was released on Sept. 18. Brown has since published two long-form music videos these tracks.
On Tuesday, Brown was nominated as Favorite Male Artist in the soul/R&B category for the 2015 American Music Awards. His most recent record, X, will also compete with D'Angelo and The Vanguard's Black Messiah, as well as The Weeknd's Beauty Behind the Madness, as a nominee for the AMA's Favorite Soul/R&B Album award. 
Brown had no tour dates scheduled on Tuesday night. With a new album on the horizon and new material to support, that could change. In the meantime, check out the tracklist for Royalty: 
Royalty Tracklist:
1. Liquor
2. Blood On My Hands
3. Royalty
4. Put It Up
5. Ghetto Tales (I Know You Wanna See)
6. Right Here
7. Time And A Place
8. Gangsta Way
9. Zero
10. Gravity
Nov. 23, 3:19 p.m.: This story has been updated.