2016 Democratic Candidates Answer Whether "Black Lives Matter, or All Lives Matter"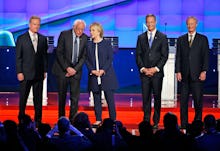 During the first of six Democratic presidential primary debates on Tuesday in Las Vegas, the five candidates onstage fielded a charged question from a viewer, "Do black lives matter, or do all lives matter?"
Vermont Sen. Bernie Sanders was first to respond and, without skipping a beat, said, "Black lives matter." Sanders evoked Sandra Bland, the Texas woman who died in police custody, and argued that as president he would make criminal justice reform a top priority.
"We need to combat institutional racism from top to bottom and we need major, major reforms in a broken criminal justice system in which we have more people in jail than China," Sanders said. 
Former Maryland Gov. Martin O'Malley sided with Sanders. O'Malley pointed to mounting racial tensions in the United States and argued that the nation has "a lot of work to do" to address the issue of race relations:
Front-runner Hillary Clinton, like Sanders and O'Malley, argued that black lives matter. "We need to tackle mass incarceration," the former secretary of state added, while some viewers were quick to accuse her of not taking a clearer stance on the issue. 
Jim Webb, the former senator from Virginia, was the first and only candidate to take an opposing side, arguing that "all lives matter." The overwhelming response on Twitter was that Webb's response was a major fumble:
Former Rhode Island Gov. Lincoln Chafee was not given a chance to respond to the question.
While some who joined the conversation on Twitter praised the fact that the #BlackLivesMatter grassroots campaign made it onto the debate floor at all, other were discouraged by the candidates' short-lived attention to the issue: