Hillary Clinton and Bernie Sanders Have Tense Exchange Over Guns in Democratic Debate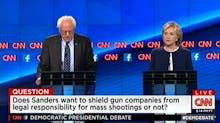 Democratic presidential front-runner Hillary Clinton and Vermont Sen. Bernie Sanders sparred on gun rights early on during the Oct. 13 primary debate in Las Vegas.
Moderator Anderson Cooper asked Sanders whether he stood by his moderate record on gun rights, asking the senator whether he still supported civil immunity for gun manufacturers in the wake of shootings, as he did in 2005.
Sanders responded by saying the National Rifle Association gave him a D- voting record on guns, adding that times had changed and he no longer supports shielding gun manufacturers from lawsuits. He characterized his earlier support as part of a complicated legislative process and intended to protect gun store operators who had done nothing wrong.
"Let's also understand that back in 1988 when I first ran for the United States Congress ... I told the gun owners of the state of Vermont, and I told the people of the state of Vermont, a state which has virtually no gun control, that I supported a ban on assault weapons," he said. "And over the years, I have strongly supported instant background checks, doing away with this terrible gun show loophole and I think we have to move aggressively on the federal level on moving on the straw man purchases."
"Do you want to shield gun companies from lawsuits?" Cooper asked. 
"Of course not," Sanders said.
Clinton said Sanders had not been tough enough on guns.
"I think we have to look at the fact that we lose 90 people a day from gun violence," Clinton said. "This has gone on too long and it's time the entire country stood up against the NRA."
"The majority of our country supports background checks," she continued. "Senator Sanders did vote five times against the Brady Bill. Since it was passed more than two million prohibited purchases have prevented. He also did vote, as he said, for this immunity provision."
"I voted against it," Clinton said. "I was in the Senate at the time. It wasn't that complicated to me ... he was going to give immunity to the only industry in America, everybody else has to be accountable, except for the gun manufacturers. And we need to stand up and say enough of that! We're not going to let it continue."
Watch the exchange here: