Hillary Clinton Had the Best Response About the Government's Control of Women's Bodies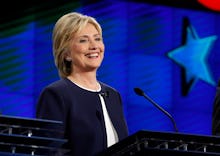 Two hours into their first primary debate, the Democratic candidates had only barely addressed domestic issues particularly related to women and their bodies — that is, until front-runner Hillary Clinton was thrown a question about paid parental leave.
Although Republican candidate Carly Fiorina has previously rejected paid parental leave, Clinton noted that California has had a paid leave program for a number of years, one that "has not had the ill effects that the Republican are always saying it will have. We can design a system and pay for it that does not put the burden on small systems," Clinton said. 
Clinton said "I know what it's like," recalling her days working as a lawyer and mother. "I think we need to recognize the incredible challenges so many parents face, particularly working moms," adding that it's time to join the "advanced world" in having a paid parental leave policy.
But she didn't stop there. Clinton took the opportunity to address reproductive rights which, despite plenty of recent controversy and political activity surrounding the topic, had yet to been directly addressed during the debate. The same people who have a problem with issues like paid leave, Clinton said, "don't mind big government interfering with a woman's right to choose or trying to shut down Planned Parenthood. I'm sick of it!" "
Clinton's campaigned doubled down with her statement on Twitter near the end of the debate: 
Watch Clinton's moment below: