Who Won the Democratic Presidential Debate? Hillary Clinton Dominates Field in CNN Debate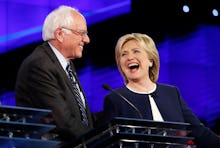 During Tuesday's Democratic presidential debate, the first of six in the long lead-up to the 2016 election, the party's five highest-polling candidates touched on everything from gun control to escalating racial issues in the United States. They fielded questions about foreign policy, economic policy, criminal justice and marijuana legalization, among other things. 
Yet, as several candidates struggled to communicate with clarity a definitive stance on the nation's most pressing issues, former secretary of state and presidential front-runner Hillary Clinton showed a clear command of the issues at hand and spoke fluently on a range of public policy topics.
Primary debates are always a bit of a high wire for the party's front-runner, and Tuesday's was no exception for Clinton. Clinton navigated several prickly questions that drove to the heart of her weakness as a candidate, notably her shift in position on the Trans-Pacific Partnership and use of a private email server while secretary of state. However, Clinton handled the questions deftly and was authoritative while displaying a willingness to engage with her challengers.
Throughout the debate, Clinton maintained a measured and affably cool demeanor. She did not shy away from gun control and was the first candidate to bring up maternal leave. At the center of her campaign, she explained simply, is raising wages, job creation and making the tax system work for both the rich and the poor. 
Going into Tuesday night's debate, all eyes were on Clinton's main challenger, Vermont Sen. Bernie Sanders. Although Sanders communicated his platform with confidence and authority, the popular candidate's delivery lacked Clinton's even temper. And many viewers believed the much-loved candidate stumbled on gun control, an issue where he has historically been out of step with the left wing of the Democratic Party. 
Sanders also outright bolstered Clinton when he said he was "sick and tired" of hearing about his opponent's email scandal. 
In the end, it came down to how well each candidate laid out an agenda that proved they would be the right leader for the U.S. public at large. Clinton, who showed poise and kept a sense of humor, even had a killer kicker.
As reason to support her as the Democratic presidential nominee, the former secretary of state said, if she's elected, "Finally, fathers will be able to say to their daughters: You too can grow up to be president."