Meet the People Navigating Adult Life in the U.S. Without a Bachelor's Degree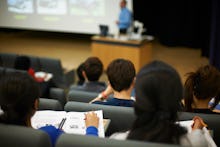 Having only missed one homework assignment, kindergartner Ariel Arbisser felt her future was threatened. "You're never going to go to Princeton if you don't hand in your homework," her parents told her. 
Years later, as Arbisser mulled a potential departure from Ivy League institution Cornell University, where she was a pre-law major specializing in labor, she felt the weight of her family tree on her back, she said. She'd be the first in three family generations not to have a piece of paper indicating the completion of a specific schema of coursework and credits: a bachelor's degree. 
Though college continues to largely be painted as critical to lifelong success, more students are opting out of a four-year degree. A recent Atlantic article asked the United States to lose its reverence for the four-year degree as an entry point for adult financial success. Two years ago a video of financial adviser Suze Orman calling college a bad investment went viral — perhaps that average $28,400 of debt upon graduation resonated with viewers. However, the burden of debt is not the only reality those who leave college face: They are weighing external pressures from their family and society at large, as well as internal pressures to succeed — and to determine what the hell "success" even is. So how then do they navigate the tension between something usually thought of as essential and something that's just not for them? 
Arbisser, now 26, said she was distracted during her time at Cornell, between her involvement with a capella choir and theatre, which she preferred to her homework. When she was tested for symptoms of attention deficit disorder, her doctors presented her with a different reality: Arbisser was extremely depressed.
"Studying, going to class about industrial labor relations, that was not resonating with me. I needed to follow my heart," Arbisser told Mic.
Arbisser took a break her junior year, then told her family she would leave school at Thanksgiving dinner during her senior year. Her grandfather, a staunch education advocate, helped her break the news to her family.  
"He took me aside and he said how he understood and he thought I was this brilliant child who he saw flicker out in college," she said. "He thought it was the right decision for me to leave."
Arbisser left legalese to pursue another language: music. Five years after her decision, she is juggling singing, acting and managing several a capella groups. She is an international award-winning a capella singer and has taken to judging competitions.
Josh Kruger, like Arbisser, confronted his own mental health while studying anthropology and political science at University of Pennsylvania. Kruger, now 31, said class tensions led him to confront his own middle-class values of American success and using alcohol to fit in. 
Kruger found the campus idyllic — a centuries-old quad, ivied walls and robed statues were its characteristics — but he said he found his peers cold.
"Most of my peers were from very wealthy families, and I felt from a very early point on campus that I was kind of like the token poor kid," he said.
Kruger's experience is no outlier. Elite colleges are struggling to enroll students from lower economic backgrounds, and those who get in face a slew of hardships.
Kruger said he was put on academic probation in late 2003, then asked to leave in early 2004. He also learned returning to school required an exorbitant reentry fee. Around late 2004, the writing was on the wall: Kruger was not going back to school.
"We always hear about college students being mollycoddled and that was not my experience," he said. 
Kruger said he began his career making minimum wage signing kids up for T-ball and soccer at a local YMCA. He was given a chance there to write grants. He was promoted several times, then worked his way into role of development coordinator at William Way Community Center — which "advocates for the well-being and acceptance" of lesbian, gay, bisexual, transgender and other minority communities — in Philadelphia. Had he graduated from college, Kruger said, his title would have been development director. Right when Kruger was toying with blogging and perhaps a journalism career, the economy provided a difficult terrain for everyone. 
The recession hit those without a bachelor's degree much harder than it did those who pursued post-secondary education, the Los Angeles Times reported in 2012. Once jobs began to return, they came back much faster for people with degrees. According to the Los Angeles Times, "Nearly a quarter of young high school graduates [were] unemployed, compared with 7% of colleges grads."
Kruger said that financial reality and his lack of a degree motivated him to learn the craft on his own and work hard at it. 
"I knew that I didn't have a degree, so I held myself to a superhuman standard," he said. Kruger met with reporters for coffee where he learned about headlines, libel, defamation and more. He read from the Society of Professional Journalists' code of ethics over breakfast.
Though Kruger has won numerous awards and held staff writer jobs at two Philadelphia alternative weeklies, he said he still feels like an odd duck sometimes. 
"I always feel like the kooky science experiment," he said. "Let's give the college dropout with a history of trauma a column and see what happens."
Dominic Holden, national LGBT reporter for BuzzFeed, is another working journalist who understands the field as experiential, rather than based in a degree. The 38-year-old said he dropped out of high school and hasn't been in a formal classroom since his teenage years.
"If you're working as a full-time journalist and you're covering politics, you don't need a degree," Holden told Mic. "You're already an exception to the rule, and you've proved that you don't need a degree." 
After being asked to leave school on an accusation of selling marijuana, which Holden said was a flat-out untrue, he became a canvasser for ecological conservation.
"I'll be damned if doing something real wasn't more energizing than sitting back while someone talks about an abstract concept or a fictional character in an old book," he said.
According to Haley Schwartz, a high school social worker in Brooklyn, New York, students who know they don't respond well to a classroom learning style will probably find college difficult. "If you don't enjoy learning in that way, why would you pursue higher learning?" she told Mic. "That's, from my experience, why students have decided not to go to college."
Holden said being a canvasser put him in the middle of the world's problems, not in the middle of a math problem. "If they taught students about how the world really works and how their efforts could change the world around them, then I think kids would be more interested in school," Holden said.
After years of organizing work — including having a hand in Seattle Hempfest, the largest marijuana decriminalization event in the world — he began to work at Washington's American Civil Liberties Union and joined many nonprofit boards. About eight years ago, Dan Savage, who was the editor of Seattle's alternative newspaper the Stranger at the time, gave Holden his first writing gig. He got the password to its blog and was told not to write too often. A few months later, Savage called him with a reversal: write more.
"I don't think you need to go to school to be accurate or curious or diligent or fair, and that's what being a journalist is all about," Holden said. "You can read a book that teaches you where to put the commas. You can learn to work with a group of people in a newsroom." 
Still, Holden does not deny a formal education's utility for those who want it. Rather, he recognizes formal school may just not be everyone's bag, just like the 45% of students who claim they don't learn in a traditional college setting. 
"For people who leave school because they want to have a hand in shaping the world around them, school didn't matter for them in the first place because their motivation comes from hard work, contribution and achievement," Holden said.
For Danny Hyun, a 28-year-old software engineer, lacking a degree has given him motivation that he said pushed him to succeed.
"Some people get a degree, they say, 'I'm done learning for the rest of my life,' and that's something you can never have in the tech world because things are moving so fast," Hyun told Mic. "The moment you feel complacent, you will be left behind and your company will fail." 
Hyun has a huge passion for his work, but school was getting in the way of his budding career as an engineer, he said. Hyun attended Cooper Union, New York Institute of Technology and the City College of New York before leaving the formal education system. During his first year in school, a professor saw his talent and pointed him to a summer internship, which turned into a real-world job.
Hyun said his parents are Korean immigrants who never had the chance to study. "They worked really hard to give me the opportunity to get a degree," he said. "It was a bigger deal for me not to go to school because I had the chance, the opportunity — I had a full scholarship." 
However, Hyun said, computers aren't going anywhere. As long as we have iPhones or Netflix, we require engineers to make them work, so he has a job. Hyun loves his work, which he considers its own form of school.
"Working with web applications," he said, "you touch a lot of aspects of engineering and you never run out of things to learn."
Francisco Lozano, 26, is a DJ and talent manager at Denver's Nativ Hotel. Like Hyun, he told Mic he learns better on the job than in a classroom. Lozano's high school, City As School High School in New York, required students to earn credits through internships. Between Lozano's work experience and seeing many of his older friends struggle to find work in their chosen field, or even find happiness, Lozano knew that college would not be his next pursuit. 
Lozano said his next goal was his music career. He began filling in gaps in his music knowledge by teaching himself through independent research. But more important, he said, was the hustle.
"The most important thing as a talent is getting your name out there," Lozano told Mic. "Once I got to the point that I started getting my name known in New York, I started charging, and that's when promoters started asking me to play this or that important event."
One of his first breaks came when superstar DJ Hardwell played Lozano's remix to Lana Del Rey's "Young and Beautiful."
"I was getting ready for a gig in the city and my social media blew up," Lozano said. "Everything took its own direction from there and it helped my career to where it is now."
Like many parents, Lozano said his pushed him toward medicine or the law, but his focus and passion helped them accept his decision to eschew school in favor of music. 
According to Schwartz, the Brooklyn social worker, emphasizing students' passions and listening to their truths is what's ultimately important in their development, not just pushing them toward college. "If someone is saying this is my truth and it's where I want my life to be and you say, 'There's only one way to be successful,' that can be damaging to a young person," she said.
As for not having his degree, Lozano said it almost never comes up. "The people that I surround myself with are very successful people, and I've never gotten the impression of me being less successful hanging out with any of my friends or colleagues or anyone," he said. "I'm not uneducated. Anything I do want to learn, I make sure I learn it really well, whether it's learning about it or researching it. Anything I do, I want to do it 100%."
If the tables were turned, though, would they extend the same ideas to their future children about college being optional?
Kruger said he is opposed to overemphasizing scholastic achievement. "Until there are structural changes in American society, I think college is a very stupid move nowadays," he said. 
"I think obsession with 'success equals being a doctor or lawyer' has got to fucking go. It's strange," he said. "If the American spirit is entrepreneurial, why aren't we telling kids to start businesses?"
Arbisser said she wants her children to be happy. "I would put happiness as the first priority," she said. "That's what I learned leaving school: I lived my whole life making decisions without thinking about what would make me feel good."
Holden said he would encourage his kids to go to school, but tell them to find out why the information they learn is useful in the outside world. "You shouldn't go to school just so that you can kick ass at trivia," he said. "You should go to school so that you can make your life incredible and improve the world around you."