Lamar Odom Hospitalized After Being Found Unconscious at a Las Vegas Brothel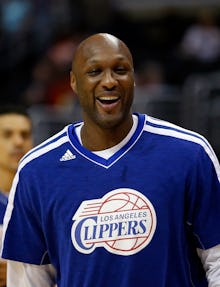 NBA and reality TV star Lamar Odom was rushed to a Las Vegas hospital after he was found unconscious at a brothel in Nevada on Tuesday, according to reports. 
Wednesday's latest updates report that Odom remains unconscious and "fighting for his life," but his publicist is urging people not to believe all the rumors.
"Family and friends are extremely concerned for Lamar," Odom's longtime publicist and friend Eve Sarkisyan told Us Weekly in a statement. "Please don't listen to the false information being circulated unofficially. Please respect the family's privacy during this difficult time."
"I'm praying to God. I'm asking God to please let him survive," his grandmother Florence told NBC News.
Police responded to a 911 call about an "unresponsive male" at 3:15 p.m. on Tuesday, the Nye County, Nevada, Sherriff's department told the Daily Beast, after two brothel workers reportedly found Khloe Kardashian's ex-husband unconscious with a "mucus-type liquid coming out of his nose and mouth," TMZ reports. Odom had taken considerable amounts of "herbal viagra" shortly before the incident, brothel owner Dennis Hof told BuzzFeed. An investigation was conducted on site by authorities after Odom was transported to the hospital, the Daily Beast reported.
Authorities' original plan was to fly Odom to the hospital by helicopter, but the 6-foot-10 basketball player was transported in an ambulance for more than an hour's drive after he couldn't fit in the aircraft, CNN reports. 
"When they took him to the Pahrump hospital, the people there told us, 'He doesn't look good. He doesn't look like he'll make it, and if he does, he won't be the same,'" Hof told CNN. 
The brothel owner told Us Weekly that the 35 year-old former NBA star had checked in to the brothel on Saturday, when Odom told him he was "just trying to get away from people so he could have some time to himself without the pressures of being who he is."
Odom's ex-wife is by his side at the hospital along with her mother, Kris Jenner, and sister Kim Kardashian West, a source told Us Weekly.
Khloe Kardashian filed for divorce from Odom in 2013, reportedly because of substance abuse problems and a video that had leaked of her now ex-husband rapping about cheating on her and smoking drugs. The two were married for four years.
Oct. 14, 2015, 4:38 p.m. EDT: This story has been updated.