Why It's Time for Celebrities in Plus-Size Clothing Ads, in One Important Quote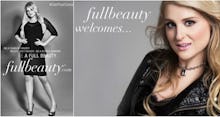 Plus-size clothing is getting more attention than ever. We're finally seeing curvier models in magazines and on runways, plus-size bloggers are gaining huge followings and brands are releasing clothes above a size 14 that aren't horribly ugly. Hell, there was even a commercial for plus-size lingerie during the 2015 Emmy Awards.
But there's another piece of the puzzle that's worth focusing on. FullBeauty, an online retailer for plus-size clothing, announced this week that singer Meghan Trainor is its new face, starring in ads with the slogan "Be a Full Beauty" along with the campaign hashtag #OwnYourCurves.
When asked by Elle.com what the campaign can accomplish, the 21-year-old Trainor made an important point:
"Going into stores when I was younger, I couldn't fit into the clothes that my friends were all wearing — tiny teeny stores that were like the coolest thing. I wish I knew what FullBeauty was when I was growing up, and I hope more women hear more about this clothing line. I hope that they feel better and more confident in their own skin."
Women who wear plus-size clothing could always use inspiring role models. But for younger girls who struggle with maintaining a positive body image, having a plus-size celebrity hero to look up to is even more important.
Changing the conversation for plus-size teens: Despite the burgeoning plus-size movement led by stars like Melissa McCarthy and brands like Lane Bryant, teen girls aren't exactly seeing their bodies represented in media and ads. Sure, some stores like Forever 21 now offer a plus-size section. But brands like Shop Jeen aren't catering to curvier girls, with plenty of items only going up to a size large. 
In the meantime, we've witnessed the rise of Brandy Melville, the hot teen clothing brand where everything only comes in one size. "There will always be the girls who will try to squeeze into it. They'll do whatever they can to fit in Brandy Melville," 17-year-old fashion blogger Justina Sharp told the Huffington Post.
Unsurprisingly, a study released this past summer found shopping is an especially grueling experience for plus-size teenage girls. As Mic's Theresa Avila reported, "40% of the girls interviewed, ages 12 to 17, had developed a negative association with shopping due to past experiences, largely due to a lack of proper fit and sizing in stores."
"40% of the girls interviewed, ages 12 to 17, had developed a negative association with shopping."
Feeling good about your clothing options is crucial for girls — and stars can help. It's no secret teens idolize celebrities and that worship is arguably even stronger in the Instagram age, when 14-year-old girls can follow every step of, say, Kylie Jenner or Willow Smith's lives thanks to their social media.
Which is why it's so fantastic to have a popular 21-year-old star like Trainor stepping up and proudly representing for plus-size girls — and giving them the role models that today's women didn't have themselves.