Stephen Colbert Brought a Giant Orchestra Onto 'The Late Show' to Play 'Legend of Zelda'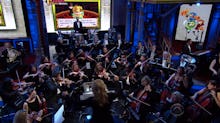 Stephen Colbert's The Late Show has the classiest guests in late night, and the host is clearly not ready to give up that reputation. On Tuesday night's show, he brought on the Symphony of the Goddesses, the official Legend of Zelda orchestra, to play a medley of the series' score.
The appearance, in honor of the upcoming release of The Legend of Zelda: Tri Force Heroes, featured the collection of musicians performing songs both from the new game and classic tracks. 
Legend of Zelda, of course, is a three-decade-old series that features the trials of Link, a young boy from Hyrule, as he fights to save Princess Zelda from various evils. In a cute touch, the conductor of the Symphony of the Goddesses uses a replica of the Wind Waker baton Link uses in The Legend of Zelda: The Wind Waker.
Late Show bandleader Jon Batiste and his band Stay Human performed their own rendition of the legendary Zelda theme to promote the appearance. Though they're a significantly smaller outfit, their jazzy arrangement is equally delightful.
While video game orchestras are not new, they have been rising in public awareness recently. No less than the Wall Street Journal proclaimed they are "saving the symphony orchestra" in a Monday feature. Other video game symphony performances include dedicated shows like Pokémon: Symphonic Evolutions and one-offs like the London Philharmonic's rendition of the Mass Effect 3 theme.
Not every late night show would be bold enough to bring on a video game chorus, but Colbert's not an ordinary late night host. His ideas are original and delightfully nerdy; he keeps you guessing on who's up next.
The Legend of Zelda: Tri Force Heroes hits the Nintendo 3DS on Oct. 23.