These Are the Super Sexy Wedding Dresses You'll Probably Never See at a Wedding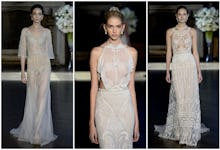 Wedding dresses are supposed to be demure. They're supposed to be elegant. They're supposed to be pristine. They're supposed to be dresses you can wear around your Aunt Harriet and your Uncle Jim without worrying about any nip slips or fashion fiascos. 
But according to Bridal Fashion Week, the biannual showcase of wedding wear hosted in New York City, that's all a bunch of hooey. 
Based on the fancy runway shows of Bridal Fashion Week, the message is that it's totally an option to say vows in front of close family members and friends wearing revealing gowns like these:
These are sheer. 
Really sheer. 
As a reminder, this is the world of fashion we're talking about. Designers do err on the side of ridiculous. But unlike New York Fashion Week, which can show basically any sort of clothes they want, the dresses advertised for brides are supposed to be chic, right? The dresses should, at the very least, be wearable. 
Surely, a hugely in-demand designer like Vera Wang gets that. Right? 
Uh, nope. She doesn't. 
More obviously than ever before, bridal designers these days are pushing a sheerer, flesh-flashing look for brides. But, well, it shouldn't be all too surprising. Just as the wedding industry has bloated into a massive "wedding industrial complex," as you might put it (the wedding planner industry alone accounted for $1 billion in revenue in 2013), wedding fashion has jumped to a new level.
Hence Bridal Fashion Week, an extravaganza of wedding outfits that rivals any couture runway for theatrics, artistry — and utter unwearability. Just like we don't wear most of what we see on runways (see: human backpacks), we bet most brides won't be donning sheer or mullet wedding dresses this coming wedding season. 
After all, most brides aren't 7-foot-tall fashion models. We see you, Bridal Fashion Week. But we won't be wearing you.