What Is "Herbal Viagra"? Quick Guide to the Type of Supplement Lamar Odom Reportedly Took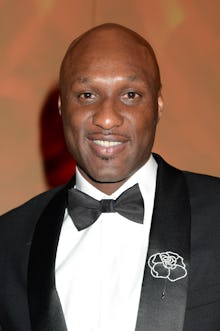 Lamar Odom was found unconscious in the basement of a Nevada brothel Tuesday afternoon. The basketball player and reality TV star, who was rushed to a nearby hospital after officials were unable to airlift him due to his size and height, was reportedly taking an "herbal Viagra" substance, Us Weekly reports.
Love Ranch owner Dennis Hof told the magazine the ex-husband of Khloe Kardashian and co-star of Khloe and Lamar was taking herbal Viagra during his stay at the brothel. "He said he was just trying to get away from people so he could have some time to himself without the pressures of being who he is," Hof told Us Weekly.
However, as "natural" and harmless the name may sound, the Food and Drug Administration reports that herbal Viagra is a medication health fraud known to be dangerous to the human body.
According to a public health notice released by the FDA in March, 
"The [FDA] is advising consumers not to purchase or use Herb Viagra, a product promoted for sexual enhancement ... FDA laboratory analysis confirmed that Herb Viagra contains sildenafil, the active ingredient in the FDA-approved prescription drug Viagra, used to treat erectile dysfunction. This undeclared ingredient may interact with nitrates found in some prescription drugs, such as nitroglycerin, and may lower blood pressure to dangerous levels."
The FDA also warns in the notice that, while the agency can't test each over-the-counter supplement sold throughout the U.S., many of those marketed as sexual enhancers (as well as weight-loss and other nutritional supplements) may contain ingredients that can pose severe health risks. 
Odom, who has reported drug abuse problems before, remains in critical condition Wednesday morning.