Viewers of the First Democratic Debate Thought Bernie Sanders Was the Clear Winner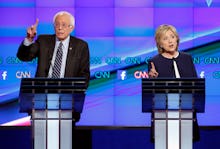 According to most pundits, journalists and political professionals, Hillary Clinton won the first Democratic presidential primary debate Tuesday night in a walk.
But as for the regular Americans who actually watched the debate? It was Sen. Bernie Sanders' night to shine.
According to a poll conducted by Google Consumer Surveys for Mic immediately following the debate in Las Vegas, 49.2% of people who watched the debate said the independent senator from Vermont had the best performance of the night. Clinton, whose performance was universally lauded by the political chattering class, was viewed as the debate's victor by less than a third of those watching:
A major disconnect: For professional debate watchers, Clinton's bravura performance — seen as vital to keeping her troubled campaign on track — left no doubts about the debate's victor. On newspapers and homepages across the political media universe, headlines like "Clinton Crushes It," "Experience Pays for Battle Vet Clinton" and "Hillary Clinton Won the Debate — Joe Biden Lost It" trumpeted a Clinton victory, citing her poise, speaking time and the facility of her attack on Sanders' gun-control record. In the words of Mic senior staff writer Gregory Krieg, on the ground in Las Vegas, Clinton delivered "the commanding performance her campaign and supporters had been thirsting for after a difficult summer and increasingly anxious early autumn."
But in Mic's Google Consumer Survey of those who watched the debate, the overwhelming consensus of political media isn't consistent with those who watched the debate at home. For those who said they tuned in to CNN's debate, Clinton's debate performance didn't even approach Sanders' relative popularity. According to the survey, 69.8% of viewers said they see Sanders more favorably based on his debate performance, compared to 54% for the former secretary of state:
Mic wasn't the only news organization to find a split between the press corps and the voting populace. Focus groups conducted by CNN, Fusion and Fox News all showed Sanders as the candidate who most impressed voters, undercutting the media narrative that described Sanders as "grumpy," "flustered" and "shaky" on foreign policy.
In the Fox News focus group, voters who watched the debate were nearly unanimous in giving Sanders the prize for their favorite moment of the night, when he gave a better answer on Clinton's email scandals than Clinton herself.
"It's just such a non-issue," one participant said. "And I'm glad that he addressed it like that and got it out of the way."
"What I liked is that he was stronger on the issue that she was, which scared me," said another.
That one of the only stand-out moments of the debate can reasonably be read as "the American people are sick of you and your drama, Hillary" is a strong indicator that while Clinton was able to parry questions about her emails, the American people might be slower to forget. 
Despite the more flashy moments like Sanders' rejoinder or Clinton's concise response to further questions about her email usage, however, many viewers of the debate told Mic's Google Consumer Survey the word they would most use to describe the debate was "boring":
Underestimating Sanders: Granted, consumer focus groups and online polls aren't as conclusive as their numbers might suggest, but the discrepancy between the pundit reaction and the public reaction is too strong to ignore entirely. 
Many of the attributes that professional political operatives and reporters see as negatives for the Sanders campaign — his ardent socialism, his crankiness, his unpolished affect — are in fact part of his appeal. A candidate like Sanders doesn't fit the traditional paradigm of elections past, where debaters who were seen as too rough around the edges were seen more as curiosities than as serious candidates.
The "new-ness" of Sanders may also be playing to his favor. As Republican strategist Stuart Stevens pointed out, in politics, as in advertising, it's a lot easier to sell something new than it is to rebrand an existing product. The corollary is that Clinton, with more than two decades spent in the public eye, is a well-known quantity, with a much higher bar to clear in terms of moving public opinion. Clinton's biggest problem is ditching her baggage; Sanders' biggest problem is to avoid gathering any of his own.
One thing voters and reporters can agree on? The number of eye-rolls induced by the debate's also-ran candidates. Former Maryland Gov. Martin O'Malley, former Virginia Sen. Jim Webb and former Rhode Island Gov. Lincoln Chafee were all rated poorly in Mic's Google Consumer Survey. For example, Chafee, whose excuse for voting to repeal the Glass-Steagall Act ranks as one of the worst debate responses since Dennis Kucinich talked about seeing a UFO, was viewed less favorably after his debate performance by an astounding 84.8% of viewers.