Thor's Hammer Mjolnir Recreated Using Fingerprint Scanners And No One But Creator Can Lift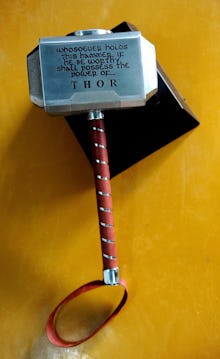 Hot on the heels of Leif Erikson Day, Californian engineer Allen Pan took to YouTube on Sunday to share an expert Nordic mythology-themed prank. With the help of electromagnetics and a fingerprint scanner, Pan built a replica of Mjolnir, aka Thor's Hammer, and invited unsuspecting bystanders in Venice Beach, California, to try and lift it.
According to Norse mythology, Thor was the god who protected the Nordic gods and goddesses in Asgard, an imagined realm. His primary weapon was his hammer, which is symbolically seen as an instrument of blessing, consecration and protection. It's also widely believed that only Thor, or those worthy, could lift the fabled hammer. 
Enter Pan, his tech abilities and the will to confuse a lot of strangers.
To build the hammer, Pan embedded a capacitive touch censor on the handle of the replica.
To that, Pan added magnets and hardware that allow the device to disconnect from a magnetic field with the touch of his finger (and his fingerprint alone). After disguising the device as Thor's hammer, Pan was ready to hit the streets with his gag.
Many contenders stepped up to the plate:
Yet try, try and try as they might, no participant could move the legendary hammer.
Pan alone was worthy.
Check out the full clip below and consider this little feat of engineering if you're in the mood for a hoaxy Halloween costume this year. If you're interested in watching more of Pan "try to make pretend things into real things," check out his YouTube channel, which he's dubbed Sufficiently Advanced.