iOS 9 Jailbreak: Features and How to Download iPhone 6s Jailbreak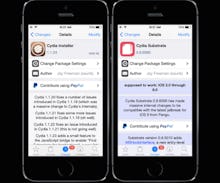 Hackers have cracked the code in order to jailbreak the latest iPhone 6s, as well as the newest versions of other Apple devices, including the iPod Touch and both the iPad Mini and Air. The Pangu iOS 9 jailbreak was released on Wednesday, making it the first untethered jailbreak for iOS 9, according to tech site 9to5Mac.
Features available in the latest jailbreak include split-screen capabilities and an unlocked version of the Apple App Store that allows users with jailbroken iPhones to download software from any online developer.
However, as Motherboard notes, downloading the software onto an Apple device can allow hackers to more easily target and break into a user's secure data and the personal information stored within a jailbroken product. As Mic previously reported, 225,941 Apple accounts linked to jailbroken devices were discovered to be compromised by hackers in August, possibly making it the largest iPhone security breach in Apple's history. Pangu recommends backing up all existing data on a device before going through with the latest jailbreak. 
Apple users immediately began testing the jailbreak Wednesday, as well as uploading videos to YouTube explaining how to properly download the software.
Further information on the Pangu iOS 9 jailbreak is available via the Pangu website.