An Indonesian Volcano Just Erupted Electric-Blue "Lava" — Here Are the Stunning Images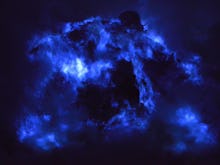 If you thought volcanos were cool before, you haven't seen anything yet. 
Meet the Ijen volcano complex in Indonesia, on the eastern edge of the main island, Java. Specifically, meet the active crater known as Kawah Ijen. Kawah Ijen is the biggest "acidic volcanic crater lake" in the world, Volcano Discovery reveals, and it emits lava which appears luminescent and electric-blue.
"This blue glow — unusual for a volcano — isn't, of course, lava, as unfortunately can be read on many websites," Olivier Grunewald, a photographer who chronicled the natural wonder, told National Geographic. 
The lava, like all other lava, is actually red. Lava can range from 1,292°F to 2,192°F, and this ridiculously high thermal radiation is what makes it some variant of red or orange. 
But in Kawah Ijen's case, "pockets of sulfur ... spew out of the volcanic crevices along with the molten rock," I Fucking Love Science explains. The high temperature of the lava burns these pockets of sulfur, in turn creating the electric-blue awesomeness.
Photographer Reuben Wu got up close and personal with Kawah Ijen and documented the amazing chemical process in a series of stunning photographs. 
Wu catalogues virtually every step of Ijen's volcanic activity, both from a macro and micro perspective: He proffers an aerial view of an eruption and a close-up of the lava-sulfur love affair. 
Hot stuff, amirite?