Tracy Morgan SNL Promos and Everything We Know About His Return To 'Saturday Night Live'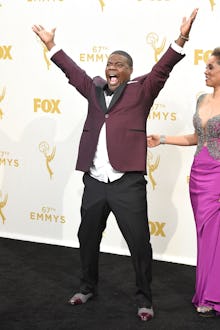 Tracy Morgan will make a triumphant return to Saturday Night Live as the episode's host this weekend. Morgan's homecoming to the SNL stages comes 12 years after the actor-comedian moved on from the show's cast to pursue other prospects. The show will air at 10:30 p.m. ET, and 23-year-old pop-rock artist Demi Lovato will be the night's musical guest. 
Morgan first joined the cast of SNL in 1996 and appeared on the show for seven years, according to the actor's biography. In 2003, Morgan starred in his own NBC sitcom, The Tracy Morgan Show, though it only ran for one season before shutting down production. In 2006, Morgan landed a lead role on 30 Rock alongside Tina Fey, another former SNL superstar. Morgan's work on 30 Rock earned the actor an Emmy Award nomination in 2009.
In advance of Saturday's highly anticipated episode, SNL cast member Bobby Moynihan and Morgan teamed up on a promotional clip to tease the event, in which Morgan delivers his signature promise: "I'm going to get everyone in this building pregnant!"
In June 2014, Morgan was critically injured in a car accident in New Jersey, when a Wal-Mart freight truck collided with his limo bus. One year later, Morgan gave his first interview to Today, during which the famed actor opened up about the physical and emotional trauma caused by the wreck. 
Morgan's SNL homecoming was first announced in August via Twitter.
As we count down the hours until Saturday's show, check out some clips from Morgan's best-loved SNL sketches below.