2015 Presidential Poll Results: Donald Trump Widens Lead on Carson and Crowded GOP Field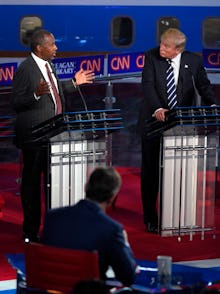 A new GOP presidential poll shows business tycoon Donald Trump leading former neurosurgeon and top challenger Ben Carson by double-digits in both South Carolina and Nevada, respectively the third and fourth states to hold Republican primary elections in February.
The poll, released Wednesday, reveals that 38% of those interviewed in Nevada and 36% interviewed in South Carolina would elect Trump out of all 15 GOP nominees. Carson was second, but not a close second — he nabbed 22% of support in Nevada and 18% in South Carolina. 
Former Hewlett-Packard CEO Carly Fiorina is next in line in Nevada, and Florida Sen. Marco Rubio takes third in South Carolina, but both poll under 10%.
Trump reveled in the glory on Twitter:
Trump has remained the front-runner for months, but polls show Carson's support has increased significantly since early September. The most recent Fox News nationwide survey of voters from all parties, published Tuesday, suggests that Carson is catching up to Trump, who returned 24% of support nationwide in that poll, compared to Carson's 23%.